Feasibility of intravenous ketamine infusion for refractory headache
Keywords:
Ketamine, chronic headache, refractory headache
Abstract
Background: Ketamine intravenous infusion has been used safely to several chronic pains and it is a good option to refractory chronic headaches. It is a noncompetitive NMDA receptor antagonist that blocks glutamate, responsible for the dissociation between thalamus-neocortical and limbic systems, leading to changes in patients' pain perception. Due to this theorical mechanism and results in reducing cortical spreading depression, Ketamine has been proposed as a treatment for migraine. Methods: We conducted a retrospective medical chart review study at Hospital Israelita Albert Einstein including three patients. All of them were diagnosed previosly with refractory chronic headache. Results: Of participants included (n = 3), two were woman. The median duration of the disease was 21 years and 12 previous treatment's failures. All the patients were currently in use of more than 4 preventive drugs. Treatment-emergent response was seen in all patients, requiring 1, 3 and 4 sessions to complete plain remission. They presented good tolerability to the treatment. One patient complained of tinnitus and mild dizziness at the end of the last session, which lasted less than 30 minutes. Conclusion: Ketamine is well tolerated and an effective treatment for patients with refractory chronic headache.
Downloads
Download data is not yet available.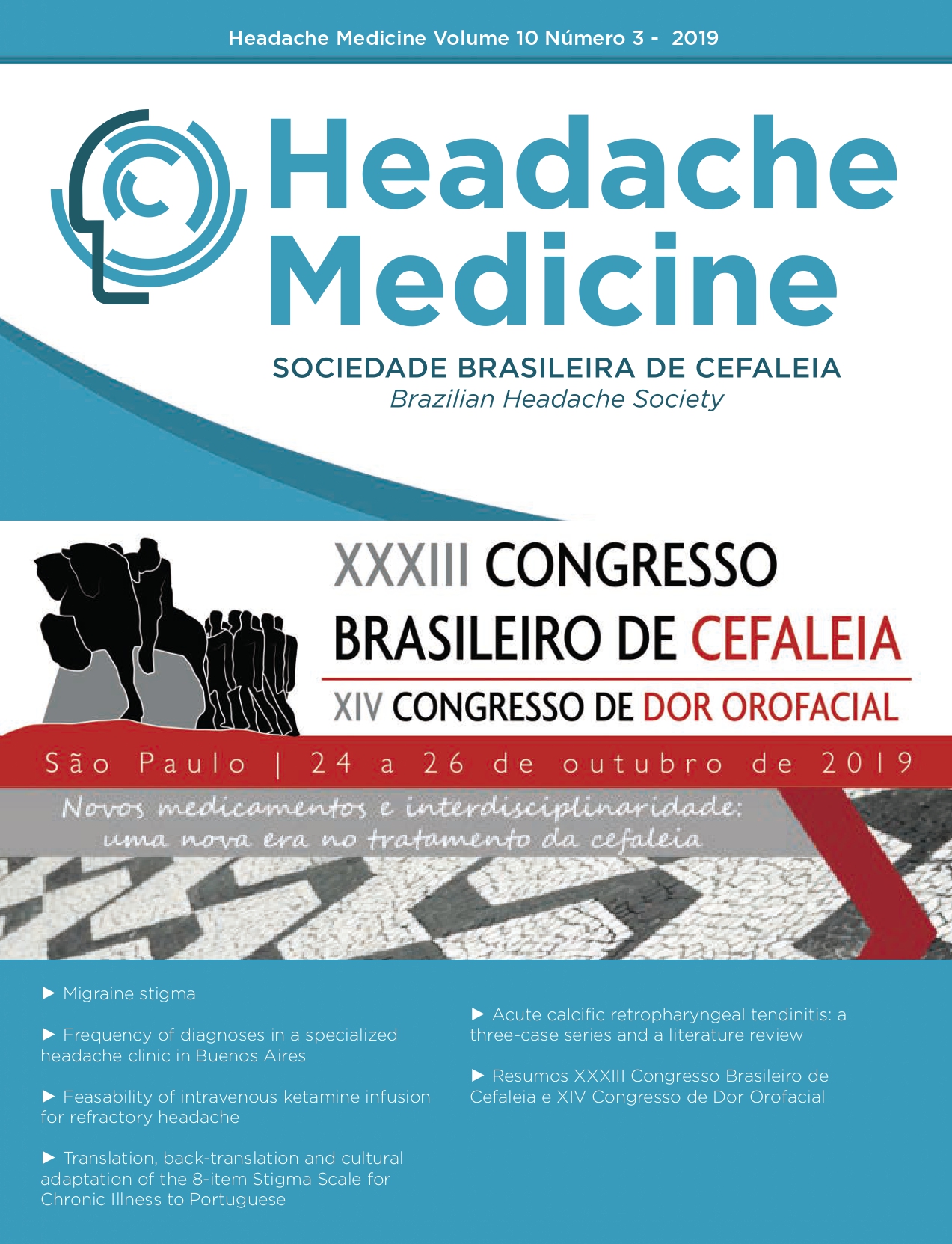 How to Cite
1.
Dangoni Filho I, Arantes HF, D´Orto UC, Marques LSF, Arantes BS, Peres MFP. Feasibility of intravenous ketamine infusion for refractory headache. HM [Internet]. 2019 Sep. 30 [cited 2022 Aug. 18];10(3):70-2. Available from: https://headachemedicine.com.br/index.php/hm/article/view/28
License
Copyright (c) 2019 Headache Medicine
This work is licensed under a Creative Commons Attribution 4.0 International License.