Melatonin reverts CGRP expression induced by capsaicin
Keywords:
Melatonin, CGRP, Animal Model
Abstract
Introduction: CGRP, a neuropeptide synthetized and released in the central nervous system and potent vasodilator, has been implicated in migraine physiopathology. Because of that, there are CGRP targeted therapies that decrease CGRP levels. Melatonin, a pineal gland secretion, has already proved its analgesic effect. We aimed to study CGRP expression in an animal model comparing capsaicin, CGRP and melatonin. Methods: We used in our study male animal rats and separated them into groups based in the kind of received solution (control group, capsaicin only and melatonin plus capsaicin). It was prepared brain stem slices and measured the CGRP levels in the trigemino nucleus caudalis (TNC). Results: Capsaicin group (N = 5) presented low intensity of GCRP expression and animals that received capsaicin plus melatonin (N = 5) showed high intensity of CGRP expression compared to capsaicin group. Conclusion: Melatonin decreases CGRP in an experimental model in rats induced by capsaicin, reducing its inflammatory action in cerebral vessels. 
Downloads
Download data is not yet available.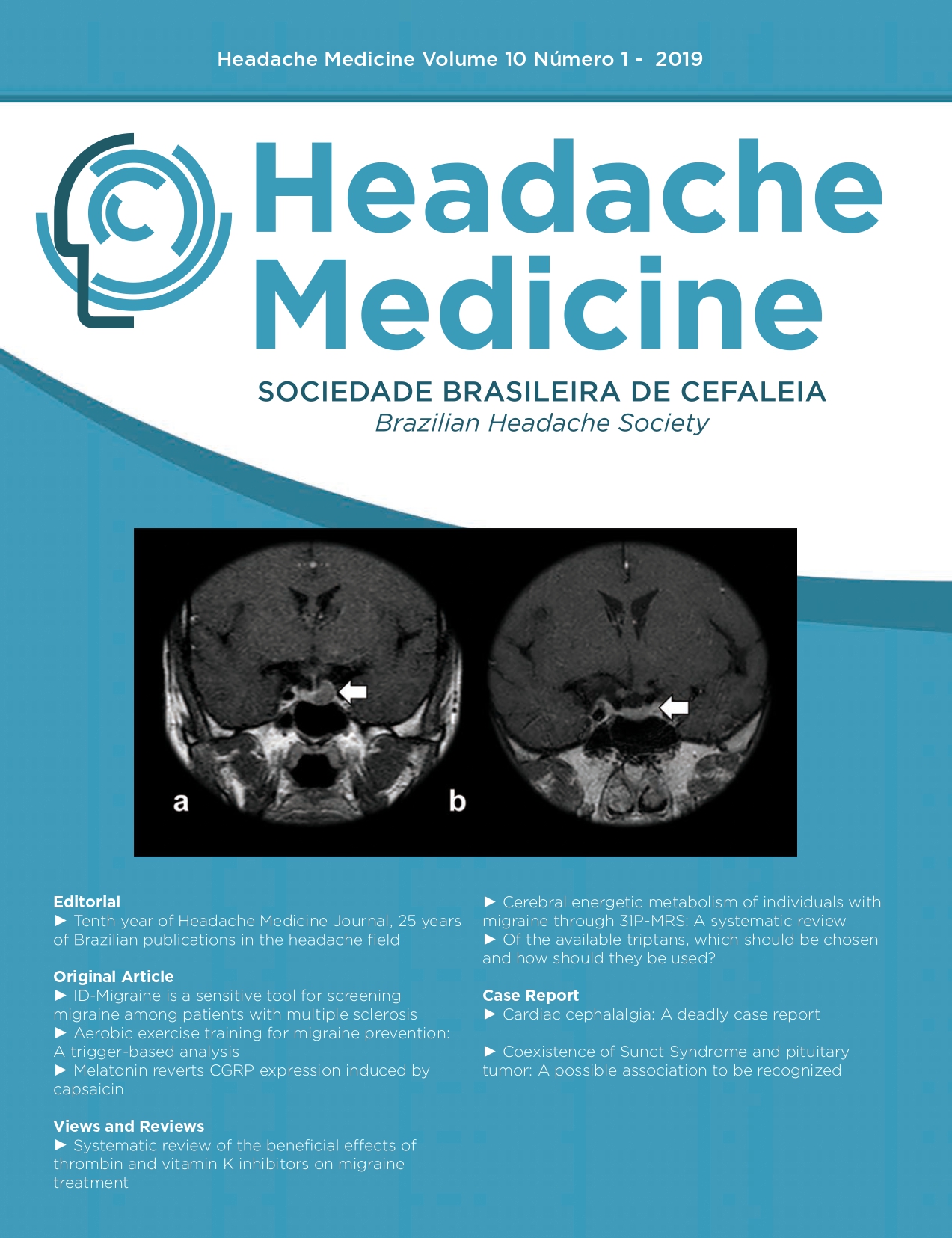 How to Cite
1.
Tanuri F da C, Amado D, Lima E de, Dangoni Filho I, Peres MFP. Melatonin reverts CGRP expression induced by capsaicin. HM [Internet]. 2019 Mar. 31 [cited 2022 Aug. 18];10(1):24-8. Available from: https://headachemedicine.com.br/index.php/hm/article/view/62
License
Copyright (c) 2019 Headache Medicine
This work is licensed under a Creative Commons Attribution 4.0 International License.