Warfarin in the treatment of refractory chronic cluster headache: a case report and review in therapeutic options
Keywords:
Chronic Cluster Headache, Refractory primary headache, Trigeminal autonomic cephalalgia, Warfarin, Pain management, Preventive treatment
Abstract
Cluster headache is the most common of trigeminal autonomic cephalalgia, with variable prevalence. It can be episodic or chronic, with few remission and high therapeutic failure. The case refers to a 55-year-old female patient, hypertensive and diabetic, with a history of migraine without aura with pain management. In 2014, the patient began to present a new headache pattern, with a diagnosis of Chronic Cluster Headache. Pain management to nasal sumatriptan as an acute treatment. For the prophylactic treatment, she presented therapeutic failure to several medications, with pain management with the use of warfarin. Associated with valproic acid to control migraine. There are few cases described in the literature about the use of warfarin, and its mechanism is still unclear. Warfarin was a key drug, with more than a 50% reduction in attack control. There is a need for more clinical trials randomly that support it. Cluster headache has peculiar clinical diagnosis, being increasingly well recognized and diagnosed. Knowledge and institution of treatment can significantly improve the quality of life of patients, helping to recover the functionality of patients affected by treatment failure.
Downloads
Download data is not yet available.
References
The International Classification of Headache Disorders, 3rd edition (beta version). Cephalalgia 2013;33(9):629-808 Doi:10.1177/0333102413485658
Souza JA, Moreira Filho PF, Jevoux Cda C, Martins GF and Pitombo AB. Remission of refractory chronic cluster headache after warfarin administrations: case report. Arq Neuropsiquiatr 2004;62(4):1090-1091 Doi:10.1590/s0004-282x2004000600029
Kowacs PA, Piovesan EJ, de Campos RW, Lange MC, Zetola VF and Werneck LC. Warfarin as a therapeutic option in the control of chronic cluster headache: a report of three cases. J Headache Pain 2005;6(5):417-419 Doi:10.1007/s10194-005-0234-6
Hakim SM. Warfarin for refractory chronic cluster headache: a randomized pilot study. Headache 2011;51(5):713-725 Doi:10.1111/j.1526-4610.2011.01856.x
Robbins MS, Starling AJ, Pringsheim TM, Becker WJ and Schwedt TJ. Treatment of Cluster Headache: The American Headache Society Evidence-Based Guidelines. Headache 2016;56(7):1093-1106 Doi:10.1111/head.12866
El Amrani M, Massiou H and Bousser MG. A negative trial of sodium valproate in cluster headache: methodological issues. Cephalalgia 2002;22(3):205-208 Doi:10.1046/j.1468-2982.2002.00349.x
Weaver-Agostoni J. Cluster headache. Am Fam Physician. 2013;88(2):122-128.
Brandt RB, Doesborg PGG, Haan J, Ferrari MD, Fronczek R. Pharmacotherapy for Cluster Headache. CNS Drugs. 2020;34(2):171-184. Doi: 10.1007/s40263-019-00696-2.
Burish M. Cluster Headache and Other Trigeminal Autonomic Cephalalgias. Continuum. 2018;24(4):1137-1156. Doi: 10.1212/CON.0000000000000625.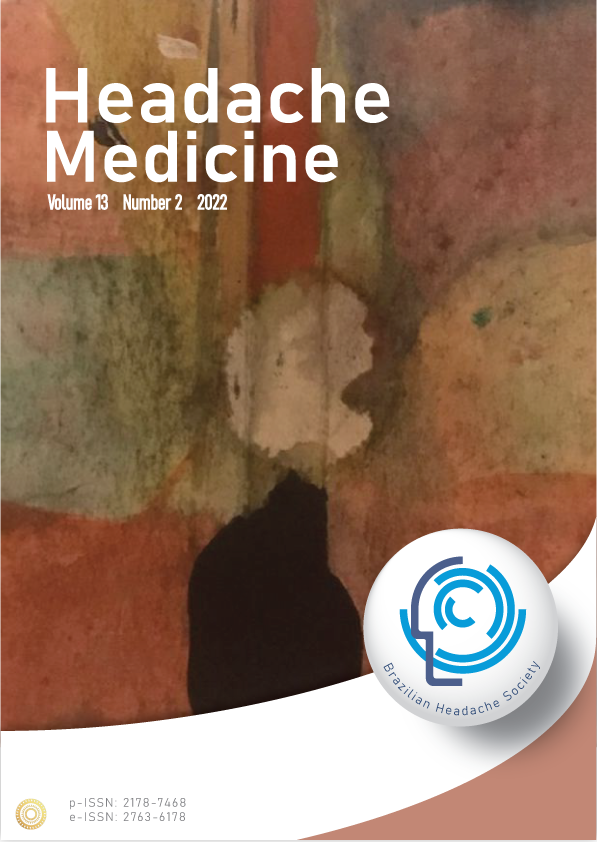 Downloads
How to Cite
1.
Boone DL, Barreto EF, Parreira FS, Campos HC de, Silva LR e. Warfarin in the treatment of refractory chronic cluster headache: a case report and review in therapeutic options. HM [Internet]. 2022 Jun. 15 [cited 2022 Aug. 18];13(2):133-6. Available from: https://headachemedicine.com.br/index.php/hm/article/view/607
License
Copyright (c) 2022 Dayany Leonel Boone, Emanuelle Ferreira Barreto, Felipe Sales Parreira, Henrique Carneiro de Campos, Lucas Roquim e Silva
This work is licensed under a Creative Commons Attribution 4.0 International License.