International Classification of Orofacial Pain – ICOP – Brazilian Portuguese version
Abstract
There is no abstract since it is an Editorial. 
Downloads
Download data is not yet available.
References
May A and Hoffmann J. Facial pain beyond trigeminal neuralgia. Curr Opin Neurol 2021;34(3):373-377 Doi:10.1097/wco.0000000000000927
May A. The exceptional role of the first division of the trigeminal nerve. Pain 2018;159 Suppl 1:S81-s84 Doi:10.1097/j.pain.0000000000001239
Goncalves DA, Camparis CM, Speciali JG, Castanharo SM, Ujikawa LT, Lipton RB and Bigal ME. Treatment of comorbid migraine and temporomandibular disorders: a factorial, double-blind, randomized, placebo-controlled study. J Orofac Pain 2013;27(4):325-335 Doi:10.11607/jop.1096
Tchivileva IE, Ohrbach R, Fillingim RB, Greenspan JD, Maixner W and Slade GD. Temporal change in headache and its contribution to the risk of developing first-onset temporomandibular disorder in the Orofacial Pain: Prospective Evaluation and Risk Assessment (OPPERA) study. Pain 2017;158(1):120-129 Doi:10.1097/j.pain.0000000000000737
Conti PC, Costa YM, Gonçalves DA and Svensson P. Headaches and myofascial temporomandibular disorders: overlapping entities, separate managements? J Oral Rehabil 2016;43(9):702-715 Doi:10.1111/joor.12410
Schmidt K, Forkmann K, Sinke C, Gratz M, Bitz A and Bingel U. The differential effect of trigeminal vs. peripheral pain stimulation on visual processing and memory encoding is influenced by pain-related fear. Neuroimage 2016;134:386-395 Doi:10.1016/j.neuroimage.2016.03.026
International Classification of Orofacial Pain, 1st edition (ICOP). Cephalalgia 2020;40(2):129-221 Doi:10.1177/0333102419893823
Headache Classification Committee of the International Headache Society (IHS) The International Classification of Headache Disorders, 3rd edition. Cephalalgia 2018;38(1):1-211 Doi:10.1177/0333102417738202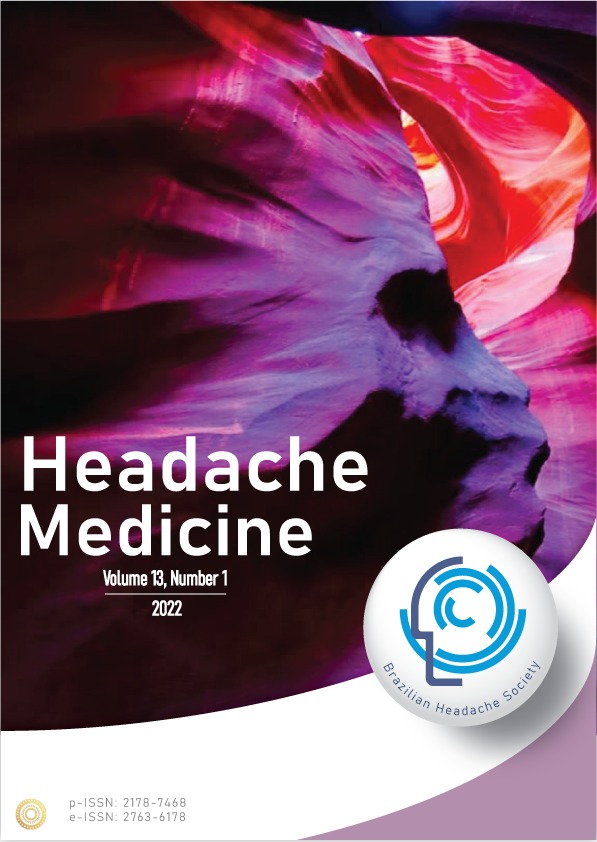 Downloads
How to Cite
1.
Conti PCR, Gonçalves DA de G. International Classification of Orofacial Pain – ICOP – Brazilian Portuguese version. HM [Internet]. 2022 Jan. 28 [cited 2022 May 26];13(1):1-2. Available from: https://headachemedicine.com.br/index.php/hm/article/view/572
License
Copyright (c) 2022 Paulo Cesar Rodrigues Conti, Daniela Aparecida de Godoi Gonçalves
This work is licensed under a Creative Commons Attribution 4.0 International License.