Greater Occipital Nerve Block with Local Anesthetics and Corticosteroids in Treatment-Resistant Chronic Migraine
Keywords:
Peripheral nerve block, Headache, Pain, Preventive treatment
Abstract
Objective: We investigated the efficacy and tolerability of greater occipital nerve block with lidocaine plus betamethasone in adults with chronic migraine in whom two or more previous preventive treatments were unsuccessful.
Methods: Ten participants were enrolled in a 24-weeks, randomized, double-blind, placebo-controlled, crossover trial conducted at a single tertiary headache center in Copenhagen (Denmark). After a 4-week run-in period, participants underwent treatment with bilateral greater occipital nerve block with lidocaine plus betamethasone (GONb) or lidocaine plus saline (placebo) with a 4-week interval wash-out phase between the 8-week crossover periods. The primary aim was to compare the number of migraine days during crossover periods after GONb or placebo. This trial is registered at ClinicalTrials.gov (NCT02686983).
Results: This study was stopped before achieving the a priori sample size, due to a slow enrollment. Ten participants were recruited, completed the study and were included in the analyses. At the baseline, the mean number of monthly migraine days was 22.9 (range, 14-30). No difference between GONb and placebo on the reduction of monthly migraine days was observed (p = 0.147; 95% CI between 0.6 and 3.7 days). Adverse events were recorded in two patients after GONb, compared with three patients after placebo.
Conclusions: GONb is not beneficial in patients with difficult-to-treat chronic migraine.
Downloads
Download data is not yet available.
References
The International Classification of Headache Disorders, 3rd edition (beta version). Cephalalgia 2013;33(9):629-808 Doi:10.1177/0333102413485658
Lanteri-Minet M. Economic burden and costs of chronic migraine. Curr Pain Headache Rep 2014;18(1):385 Doi:10.1007/s11916-013-0385-0
Hepp Z, Dodick DW, Varon SF, Gillard P, Hansen RN and Devine EB. Adherence to oral migraine-preventive medications among patients with chronic migraine. Cephalalgia 2015;35(6):478-488 Doi:10.1177/0333102414547138
Hepp Z, Dodick DW, Varon SF, Chia J, Matthew N, Gillard P, . . . Devine EB. Persistence and switching patterns of oral migraine prophylactic medications among patients with chronic migraine: A retrospective claims analysis. Cephalalgia 2017;37(5):470-485 Doi:10.1177/0333102416678382
Ashkenazi A, Blumenfeld A, Napchan U, Narouze S, Grosberg B, Nett R, . . . Lipton RB. Peripheral nerve blocks and trigger point injections in headache management - a systematic review and suggestions for future research. Headache 2010;50(6):943-952 Doi:10.1111/j.1526-4610.2010.01675.x
Caputi CA and Firetto V. Therapeutic blockade of greater occipital and supraorbital nerves in migraine patients. Headache 1997;37(3):174-179 Doi:10.1046/j.1526-4610.1997.3703174.x
Afridi SK, Shields KG, Bhola R and Goadsby PJ. Greater occipital nerve injection in primary headache syndromes--prolonged effects from a single injection. Pain 2006;122(1-2):126-129 Doi:10.1016/j.pain.2006.01.016
Naja ZM, El-Rajab M, Al-Tannir MA, Ziade FM and Tawfik OM. Occipital nerve blockade for cervicogenic headache: a double-blind randomized controlled clinical trial. Pain Pract 2006;6(2):89-95 Doi:10.1111/j.1533-2500.2006.00068.x
Busch V, Jakob W, Juergens T, Schulte-Mattler W, Kaube H and May A. Functional connectivity between trigeminal and occipital nerves revealed by occipital nerve blockade and nociceptive blink reflexes. Cephalalgia 2006;26(1):50-55 Doi:10.1111/j.1468-2982.2005.00992.x
Piovesan EJ, Kowacs PA, Tatsui CE, Lange MC, Ribas LC and Werneck LC. Referred pain after painful stimulation of the greater occipital nerve in humans: evidence of convergence of cervical afferences on trigeminal nuclei. Cephalalgia 2001;21(2):107-109 Doi:10.1046/j.1468-2982.2001.00166.x
Inan LE, Inan N, Unal-Artık HA, Atac C and Babaoglu G. Greater occipital nerve block in migraine prophylaxis: Narrative review. Cephalalgia 2019;39(7):908-920 Doi:10.1177/0333102418821669
Ashkenazi A, Matro R, Shaw JW, Abbas MA and Silberstein SD. Greater occipital nerve block using local anaesthetics alone or with triamcinolone for transformed migraine: a randomised comparative study. J Neurol Neurosurg Psychiatry 2008;79(4):415-417 Doi:10.1136/jnnp.2007.124420
Dilli E, Halker R, Vargas B, Hentz J, Radam T, Rogers R and Dodick D. Occipital nerve block for the short-term preventive treatment of migraine: A randomized, double-blinded, placebo-controlled study. Cephalalgia 2015;35(11):959-968 Doi:10.1177/0333102414561872
Kashipazha D, Nakhostin-Mortazavi A, Mohammadianinejad SE, Bahadoram M, Zandifar S and Tarahomi S. Preventive effect of greater occipital nerve block on severity and frequency of migraine headache. Glob J Health Sci 2014;6(6):209-213 Doi:10.5539/gjhs.v6n6p209
Martelletti P, Giamberardino MA and Mitsikostas DD. Greater occipital nerve as target for refractory chronic headaches: from corticosteroid block to invasive neurostimulation and back. Expert Rev Neurother 2016;16(8):865-866 Doi:10.1586/14737175.2016.1164599
Shauly O, Gould DJ, Sahai-Srivastava S and Patel KM. Greater Occipital Nerve Block for the Treatment of Chronic Migraine Headaches: A Systematic Review and Meta-Analysis. Plast Reconstr Surg 2019;144(4):943-952 Doi:10.1097/prs.0000000000006059
Tassorelli C, Diener HC, Dodick DW, Silberstein SD, Lipton RB, Ashina M, . . . Wang SJ. Guidelines of the International Headache Society for controlled trials of preventive treatment of chronic migraine in adults. Cephalalgia 2018;38(5):815-832 Doi:10.1177/0333102418758283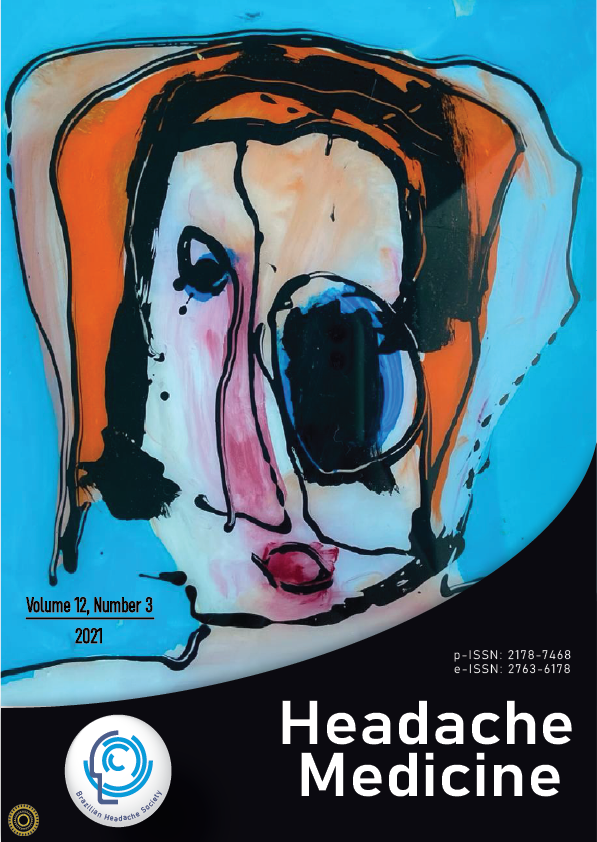 How to Cite
1.
Cvetkovic VV, Icco RD, Do TP, Pellesi L, Ashina M, Hansen JM. Greater Occipital Nerve Block with Local Anesthetics and Corticosteroids in Treatment-Resistant Chronic Migraine. HM [Internet]. 2021 Nov. 16 [cited 2022 Jan. 25];12(3):160-7. Available from: https://headachemedicine.com.br/index.php/hm/article/view/448
License
Copyright (c) 2021 Vlasta Vukovic Cvetkovic, Roberto De Icco, Thien Phu Do, Lanfranco Pellesi, Messoud Ashina, Jakob Møller Hansen
This work is licensed under a Creative Commons Attribution 4.0 International License.