Importance of illustrating art objects (drawing, painting or sculpture) on the front cover
Abstract
Years ago, we created a section in Headache Medicine entitled NeuroArt1-3 to value artistic expression that represented the specialty of the study of diverse headache subtypes. As the current trend is to put on the front cover a figure representing the specialty or a theme covered in the issue, we have also used images related to Headache Medicine to illustrate our front covers.
Downloads
Download data is not yet available.
References
Valença MM and Andrade-Valença LPA. Neuroart and headache: the enigmas in the Michelangelo's frescos. Headache Medicine 2011;2(4):212-215 Doi: 10.48208/HeadacheMed. 2011.32
Freitas MFL, Nascimento JJC and Valença MM. Anatomy and art: a necessary union such as that of the body with the soul. Headache Medicine 2016;7(1):6-10 Doi https://www.doi.org/10.48208/HeadacheMed.2016.2
Valença MM and Kowacs F. Migraine-inspired art. Headache Medicine 2011;2(1):4 Doi: 10.48208/HeadacheMed.2011.1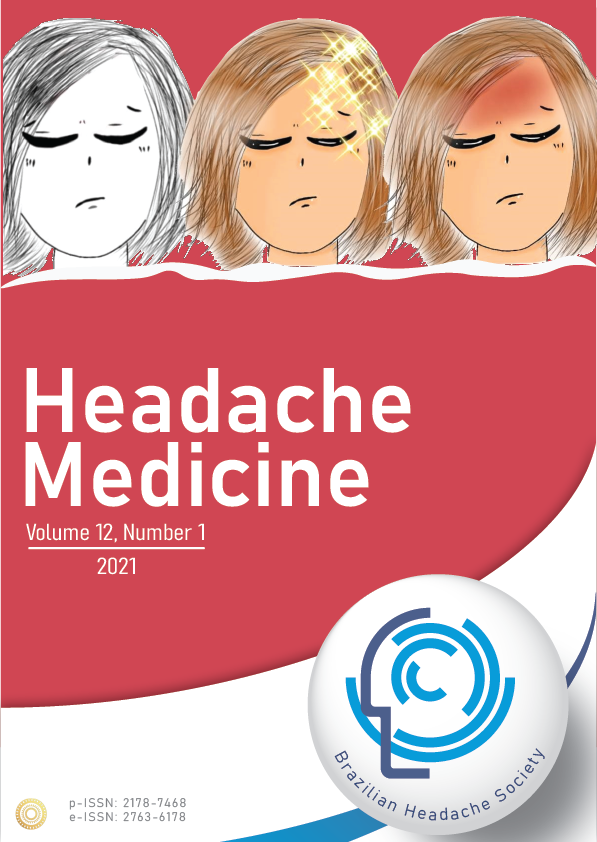 How to Cite
1.
Valença MM, Andrade JR, Peres MFP. Importance of illustrating art objects (drawing, painting or sculpture) on the front cover. HM [Internet]. 2021 Mar. 31 [cited 2022 Jul. 7];12(1):1-4. Available from: https://headachemedicine.com.br/index.php/hm/article/view/439
License
Copyright (c) 2021 Marcelo Moraes Valença, Juliana Ramos Andrade, Mario Fernando Prieto Peres
This work is licensed under a Creative Commons Attribution 4.0 International License.