Central sensitization in episodic and chronic migraine
Keywords:
Migraine, Central sensitization syndrome, Central sensitization inventory, Episodic migraine, Chronic migraine
Abstract
Introduction
In chronic migraine, central sensitization (CS) may play a significant pathophysiological role, since it amplifies pain signals, causing increased pain and disability. However, there are no studies confirming CS in other migraine subtypes, such as episodic migraine. The authors studied the relationship between central sensitization syndrome (CSS) in episodic and chronic migraine and its severity levels.
Objectives
To evaluate the occurrence and severity of CS in patients with episodic and chronic migraine, comparing with a control group.
Methods
Central Sensitization Inventory was investigated in adult patients with one of three categories: 1) episodic migraine, 2) chronic migraine and 3) control group. Group 1 included 35 patients while groups 2 and 3 comprised 30 subjects.
Results
The study included 63 women (66%) and 32 men (34%). Average age was 34.7 years. Mean score in the CS Inventory was significantly different according to groups (episodic migraine 37.3, chronic migraine 47.0 and control group 20.2). Chronic migraine presented the higher score of severity, followed by episodic and control group.
Conclusions
Central sensitization is found in episodic migraine patients, although the severity is not as high as in chronic migraine patients. This evidence may save effort and costs in unnecessary complementary exams, allowing earlier treatment and better patient satisfaction.
Downloads
Download data is not yet available.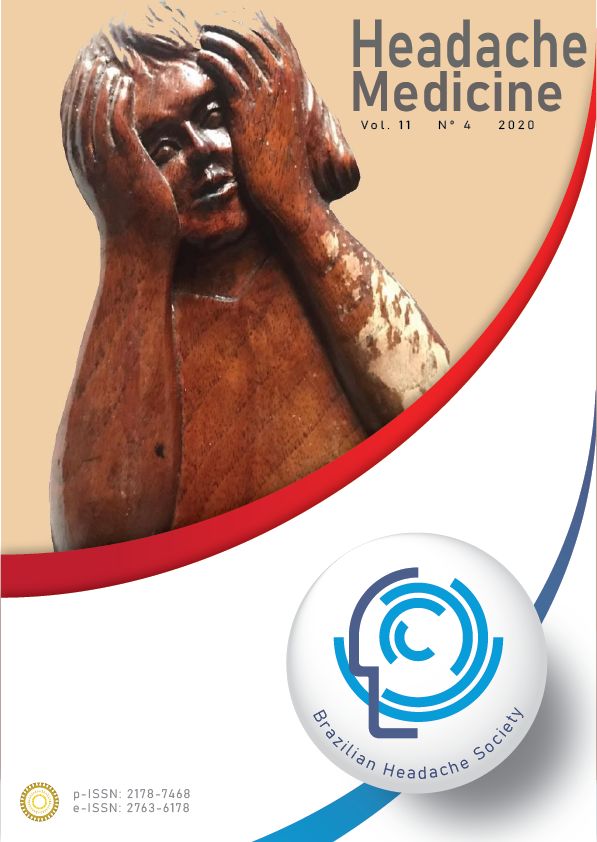 How to Cite
1.
Antonio Nihi M, Sergio Faro Santos P, Benzecry Almeida D. Central sensitization in episodic and chronic migraine . HM [Internet]. 2020 Dec. 31 [cited 2022 Jan. 28];11(4):85-9. Available from: https://headachemedicine.com.br/index.php/hm/article/view/412
License
Copyright (c) 2020 Headache Medicine
This work is licensed under a Creative Commons Attribution 4.0 International License.