Cross-cultural adaptation of the Brazilian Portuguese version of Quality of Life Headache-Youth (QLH-Y) Questionnaire
Volume 4 - Number 2 - 2013
Keywords:
Adolescents, Headache, Migraine disorders, Quality of life
Abstract
Objetivos: Traduzir para a língua portuguesa, adaptar transculturalmente e validar o Quality of Life Headache-Youth (QLH-Y), avaliando sua confiabilidade por meio da consistência interna dos seus itens, em uma amostra de adolescentes de ambos os gêneros, estudantes de escolas públicas na cidade de Recife. Método: O instrumento original foi traduzido do inglês para o português, gerando uma síntese consensual. A versão em português do instrumento foi retrotraduzida, e então desenvolvida uma versão pré-final para um teste de campo. Após a adequação do instrumento para o português, foi realizado um estudo piloto com 100 estudantes. Resultados: Os resultados encontrados na consistência interna da versão brasileira foram muito satisfatórios, com o valor de alfa de Cronbach de 0,906 (superior a 0,7) indicando um grau elevado de consistência interna. Conclusão: A versão em português do QLH-Y apresenta uma consistência interna excelente e uma boa compreensão dos seus itens pela adaptação transcultural na cidade do Recife. 
Downloads
Download data is not yet available.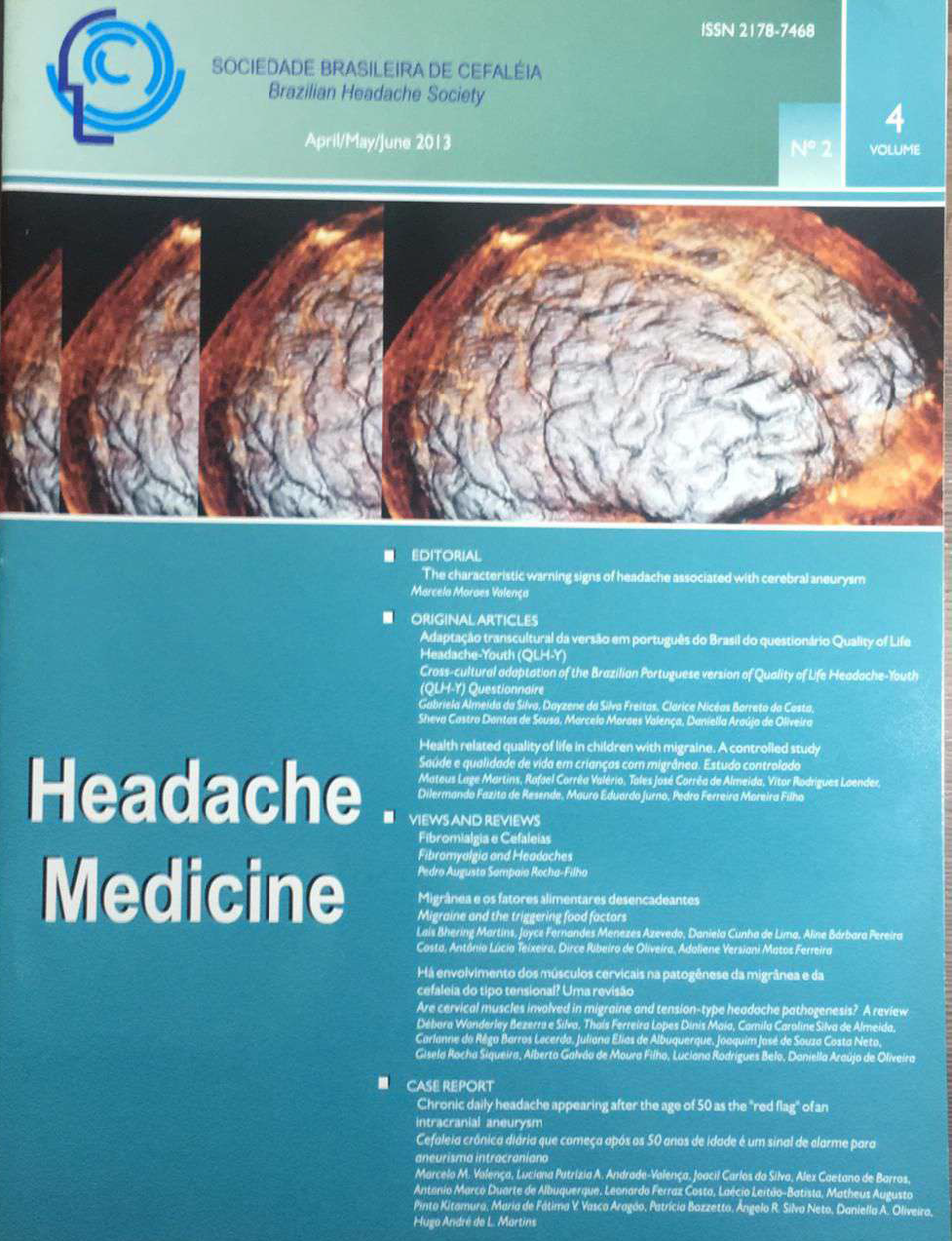 How to Cite
1.
Silva GA da, Freitas D da S, Costa CNB da, Sousa SCD de, Valença MM, Oliveira DA de. Cross-cultural adaptation of the Brazilian Portuguese version of Quality of Life Headache-Youth (QLH-Y) Questionnaire: Volume 4 - Number 2 - 2013. HM [Internet]. 2013 Jun. 30 [cited 2021 Oct. 27];4(2):45-53. Available from: https://headachemedicine.com.br/index.php/hm/article/view/373
License
Copyright (c) 2013 Headache Medicine
This work is licensed under a Creative Commons Attribution 4.0 International License.