Functional incapacity and headache: impacts on daily life of university students
Keywords:
Headache, Anxiety, Stress, Sleep disorder
Abstract
Psychological factors influence the balance of managing situations that cause suffering for individuals, especially those that are pain-related, and frequently contribute to their worsening. The correlation between headache, anxiety, stress and sleep disorders has been reported in some studies, but the exact nature of these associations and underlying mechanisms has been poorly explored. Objective: To analyze headache prevalence in university health students and its association with anxiety, stress, and sleep quality. Material and methods: This is a cross-sectional study performed with 340 university students, of which 288 had headache. Psychometric self-report scales and the International Classification of Headache Disorders, third edition (ICHD-3β) criteria were used to classify headache. We used differences of means, prevalence, which were obtained by the χ2 test, and odds ratio. Results: A total of 288/340 (84.7%) had headache, with a higher prevalence of in public health and biological sciences students aged 25-43 years (93.6%), in females(88.5%). The BMI with classification of overweight and obesity showed a prevalence of 79.3%. The impact was found in 51.1% of students with headache. Anxiety scored a prevalence of 86.8%. Stress showed a lower average for students with headache, and bad sleepers had a prevalence of 87.4%. Conclusion: The prevalence of headache in university students is high and is significantly associated with age, gender and poor sleep quality, affecting more than half of the students.
Downloads
Download data is not yet available.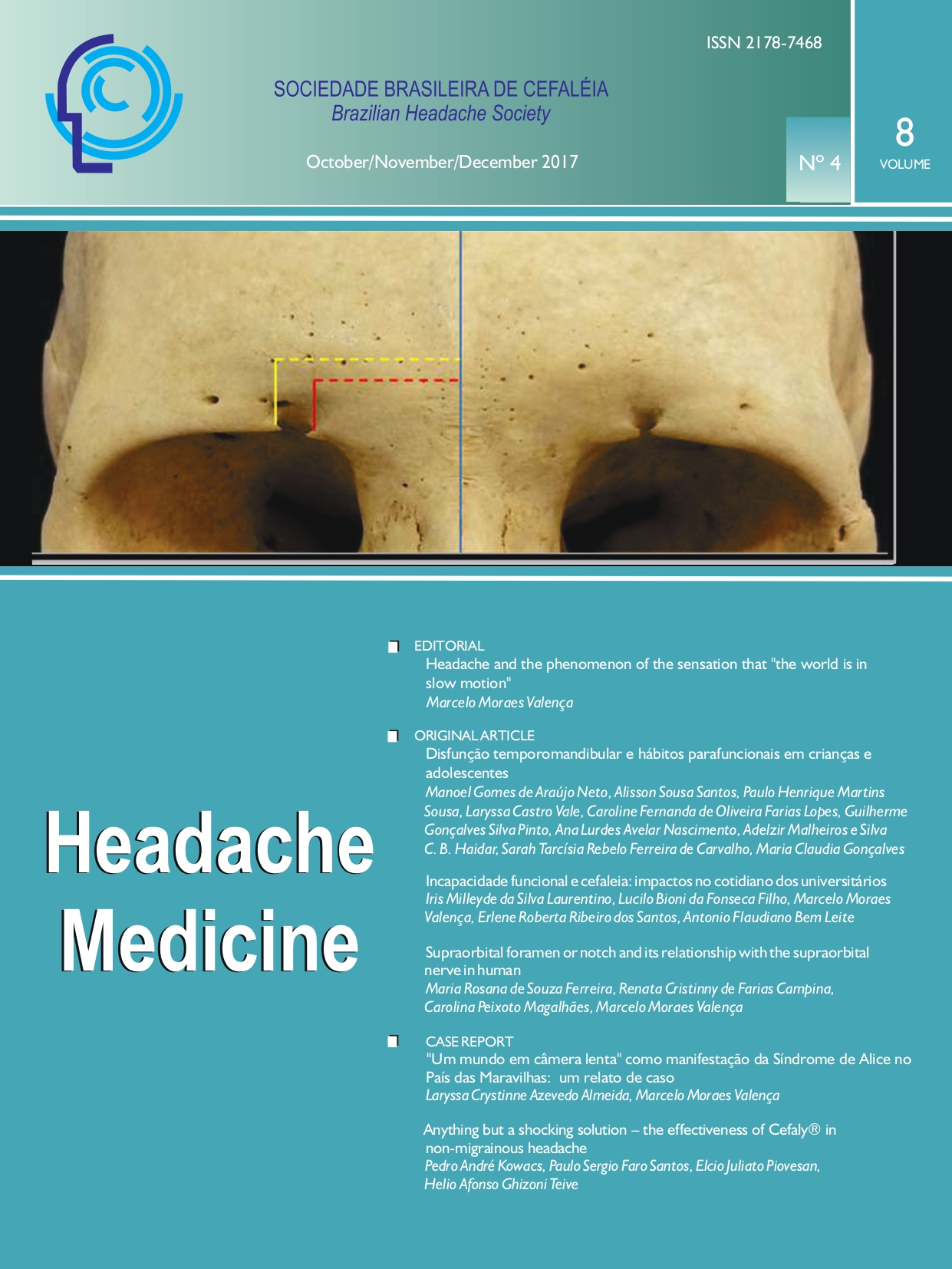 How to Cite
1.
Laurentino IM da S, Fonseca Filho LB da, Valença MM, Santos ERR dos, Leite AFB. Functional incapacity and headache: impacts on daily life of university students. HM [Internet]. 2017 Dec. 31 [cited 2022 Aug. 18];8(4):124-9. Available from: https://headachemedicine.com.br/index.php/hm/article/view/266
License
Copyright (c) 2017 Headache Medicine
This work is licensed under a Creative Commons Attribution 4.0 International License.