Interactive between headache, systemic arterial hypertension and stoke: a integrative review
Keywords:
Headache, Migraine Disorder, Hypertension, Stroke
Abstract
Introduction: Several studies present evidence that headache is a symptom often associated with systemic arterial hypertension (SAH) and it may contribute to a greater potential for the development of these diseases, including the risks of more serious damages, such as stroke). Objective: To identify in the existing scientific publications the relation between migraine, systemic arterial hypertension and secondary outcome of cerebrovascular accident. Methodological procedures: This is an integrative literature review from 2014 to 2018, in the bibliographic databases of Latin Literature (LILACS) and the Medical Literature Analysis and Retrieval System Online (MEDLINE /PUBMED) conducted in April 2019. From 50 identified records, considering the selected descriptors, through selection and eligibility procedures according to the proposed inclusion and exclusion criteria, 04 articles were selected. The PRISMA tool (Preferred Reporting Items for Systematic Reviews and Meta-analyzes) was used as a guideline in the writing of the integrated review. Results: 50% of the analyzed studies directed the objectives for the investigation of the association between migraine and cardiovascular disease. The others, prioritized as objective the evaluation of migraine as a risk factor for stroke. The findings of the studies analyzed in full confirm the presence of the association of migraine with systemic arterial hypertension and stroke. Of these, only one presented no significance in the statistical model, when migraine was generally included for the risk of stroke, but when migraine with aura was inserted, it showed positive results. Conclusion: Migraine is directly associated with cardiovascular diseases and can have a significant impact, both for the patients' disability and for the public health policy, which needs to improve strategies for monitoring and preventing negative outcomes in the long term.
Downloads
Download data is not yet available.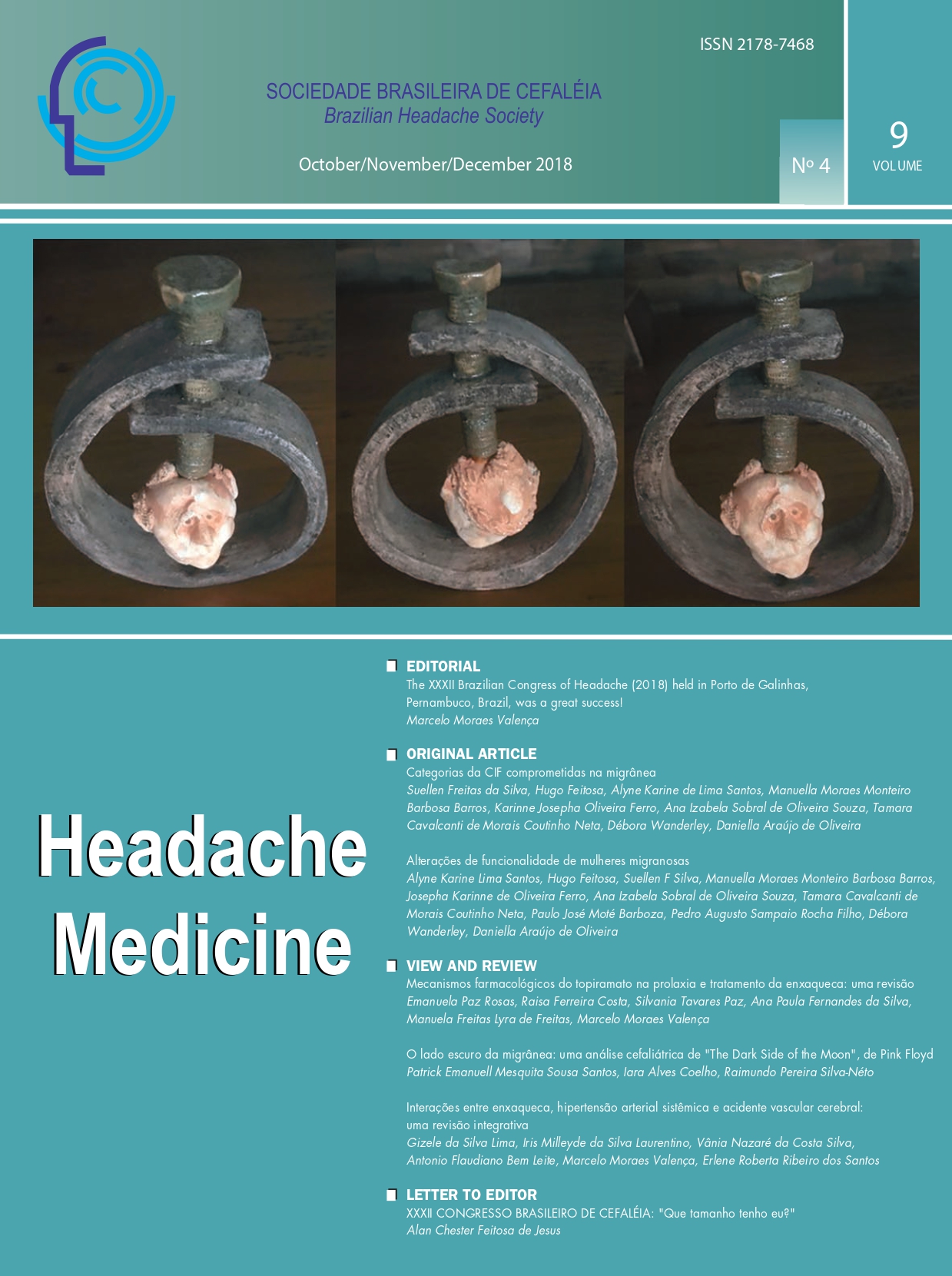 How to Cite
1.
Lima G da S, Laurentino IM da S, Silva VN da C, Leite AFB, Valença MM, Santos ERR dos. Interactive between headache, systemic arterial hypertension and stoke: a integrative review. HM [Internet]. 2018 Dec. 31 [cited 2021 Sep. 26];9(4):199-204. Available from: https://headachemedicine.com.br/index.php/hm/article/view/227
License
Copyright (c) 2018 Headache Medicine
This work is licensed under a Creative Commons Attribution 4.0 International License.