Functionality changes of migraine women
Keywords:
Migraine disorders, International Classification of Functioning, Disability, and Health, psychosocial impact, biopsychosocial, activity and participation
Abstract
Objective: Identification of changes in functionality of women with migraine according to the International Classification of Functioning, Disability, and Health (ICF). Method: This is a qualitative study conducted in the format of focus group interviews, which included women between 18 and 55 years old diagnosed with migraine based on the criteria of the International Headache Society. The women were divided into groups with averages of two to four people and, guided by a moderator, they were encouraged to talk about the influence of migraine on performing the tasks to which they are exposed daily, taking into account the environment in which they are inserted. The categories that reached the 30% agreement cutoff point in the groups were approved. Results: There were 10 rounds of interviews, each with a focus group with an average of two to four people, totaling 29 women with a mean age of 35 years old (95% CI: 18 - 51). Eighteen categories were approved, four in the Body Function domain, four in the Body Structure domain, six categories in the Activity and Participation domain and four categories in the Environmental Factors domain. Conclusion: Women with migraine perceive lteration in functionality in all ICF domains, with the Activities and Participation domain presenting the most mentioned categories.
Downloads
Download data is not yet available.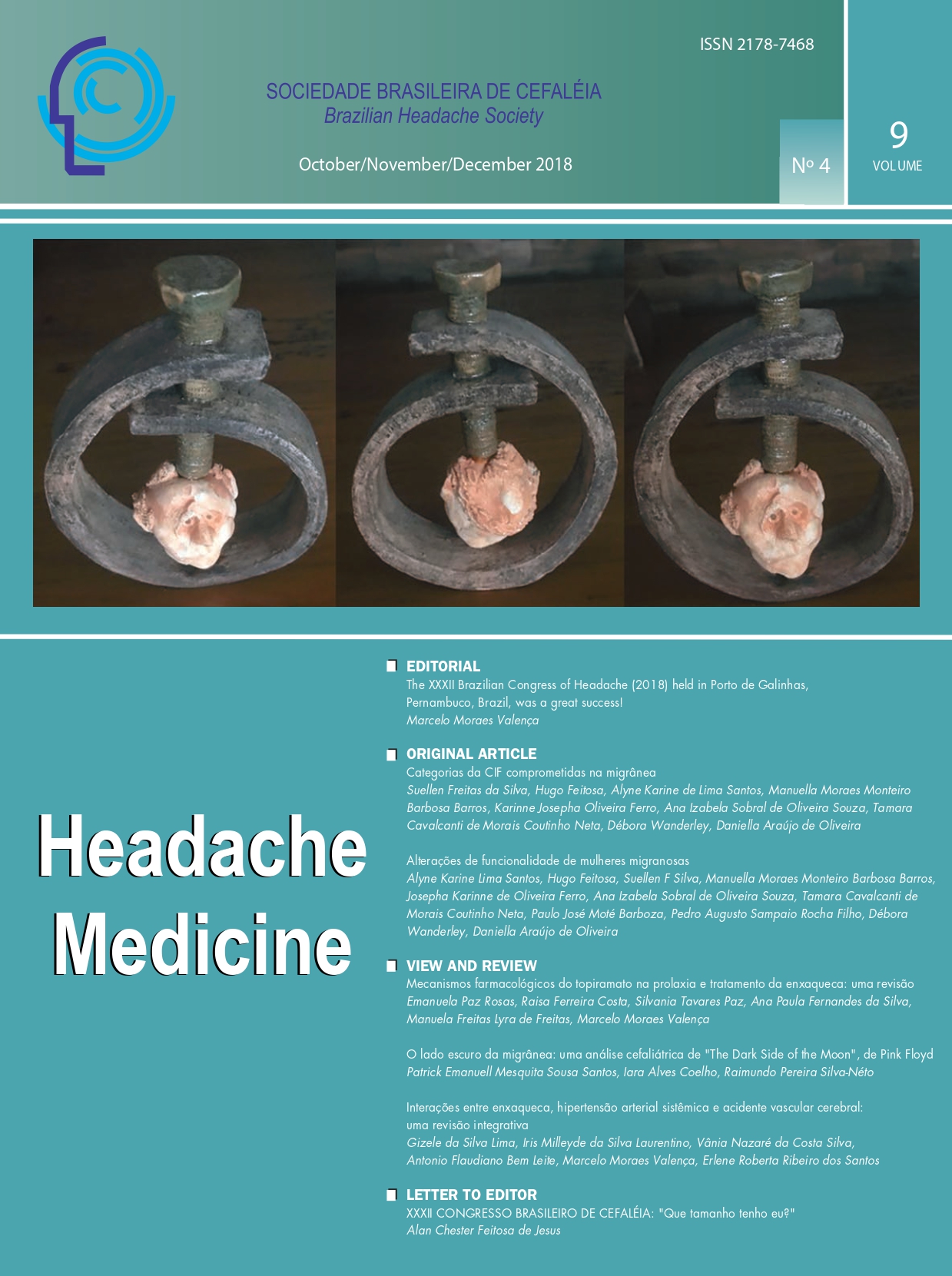 How to Cite
1.
Santos AKL, Feitosa H, Silva SF, Barros MMMB, Ferro JK de O, Souza AIS de O, Coutinho Neta TC de M, Barboza PJM, Rocha Filho PAS, Wanderley D, Oliveira DA de. Functionality changes of migraine women. HM [Internet]. 2018 Dec. 31 [cited 2021 Sep. 26];9(4):183-9. Available from: https://headachemedicine.com.br/index.php/hm/article/view/224
License
Copyright (c) 2018 Headache Medicine
This work is licensed under a Creative Commons Attribution 4.0 International License.