ICF categories compromised in Migraine
Keywords:
Migraine disorders, International Classification of Functioning, Disability, and Health, health personnel, activity and participation
Abstract
Objective: To identify which categories of the International Classification of Functioning, Disability, and Health (ICF) are compromised in patients with migraine from the perspective of health professionals. Methods: This is a cross-sectional study conducted at the headache outpatient clinic of the Clinical Hospital of Pernambuco, Oswaldo Cruz University Hospital and at the Motor Learning and Control Laboratory of the Federal University of Pernambuco. A five-section printed and online questionnaire based on ICF checkList 2.1 was used. Health professionals from different specialities who had experience in treating patients with migraine were invited. Professionals were instructed to complete the questionnaire and to choose, based on their clinical experience, which categories had the highest degree of impairment or the highest relationship with the clinical condition of migraine patients. A cut-off point of 70% for approval of categories was considered. Results: Sixteen professionals were enrolled in the survey. The questionnaire was compost by 106 categories, of which 32 reached the cutoff point of 70% to be considered approved. Among these categories, seven (21.8%) are part of the body functions component, five (15.6%) body structures, thirteen (40.6%) activities, and participation and seven (21.8%). of environmental factors. Conclusion: In the perception of health professionals, individuals with migraine present impairment in all domains of the ICF and the activity and participation domains presented the highest number of compromised categories.
Downloads
Download data is not yet available.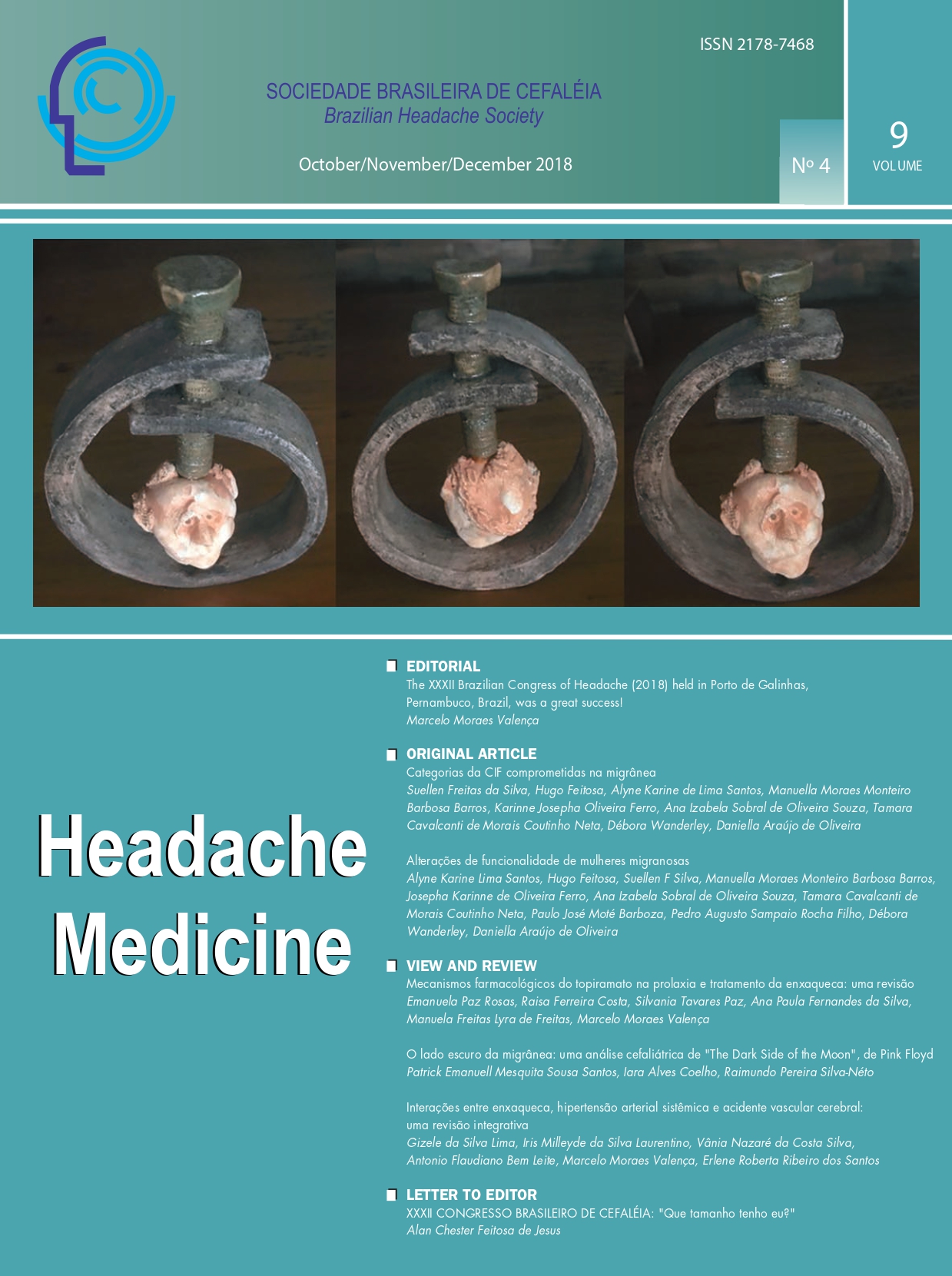 How to Cite
1.
Silva SF da, Feitosa H, Santos AK de L, Barros MMMB, Ferro KJO, Souza AIS de O, Coutinho Neta TC de M, Barboza PJM, Rocha Filho PAS, Wanderley D, Oliveira DA de. ICF categories compromised in Migraine. HM [Internet]. 2018 Dec. 31 [cited 2022 Jul. 7];9(4):177-82. Available from: https://headachemedicine.com.br/index.php/hm/article/view/223
License
Copyright (c) 2018 Headache Medicine
This work is licensed under a Creative Commons Attribution 4.0 International License.