The bidirectional relation of migraine and affective disorders
Keywords:
headache, migraine, tensio-type headache, epidemiology, general population, follow-up, anxiety, depression
Downloads
Download data is not yet available.
References
Giri S, Tronvik EA and Hagen K. The bidirectional temporal relationship between headache and affective disorders: longitudinal data from the HUNT studies. J Headache Pain 2022;23(1):14 Doi:10.1186/s10194-022-01388-x
Headache Classification Committee of the International Headache Society (IHS) The International Classification of Headache Disorders, 3rd edition. Cephalalgia 2018;38(1):1-211 Doi:10.1177/0333102417738202
American Psychiatric Association, DSM-5 Task Force. DSM-5 Task Force Diagnostic and statistical manual of mental disorders: DSM-5. Washington: American Psychiatric Publishing, 2013. Doi: 10.1176/appi.books.9780890425596
World Health Organization. ICD-11 for mortality and morbidity statistics [Internet]. Geneva, 2019. Available from: https://icd.who.int/browse11/l-m/en.
Hautakangas H, Winsvold BS, Ruotsalainen SE, Bjornsdottir G, Harder AVE, Kogelman LJA, . . . Pirinen M. Genome-wide analysis of 102,084 migraine cases identifies 123 risk loci and subtype-specific risk alleles. Nat Genet 2022;54(2):152-160 Doi:10.1038/s41588-021-00990-0
Gonda X, Rihmer Z, Juhasz G, Zsombok T and Bagdy G. High anxiety and migraine are associated with the s allele of the 5HTTLPR gene polymorphism. Psychiatry Res 2007;149(1-3):261-266 Doi:10.1016/j.psychres.2006.05.014
Ashina S, Mitsikostas DD, Lee MJ, Yamani N, Wang SJ, Messina R, . . . Lipton RB. Tension-type headache. Nat Rev Dis Primers 2021;7(1):24 Doi:10.1038/s41572-021-00257-2
Jensen RH. Tension-Type Headache - The Normal and Most Prevalent Headache. Headache 2018;58(2):339-345 Doi:10.1111/head.13067
Steel SJ, Robertson CE and Whealy MA. Current Understanding of the Pathophysiology and Approach to Tension-Type Headache. Curr Neurol Neurosci Rep 2021;21(10):56 Doi:10.1007/s11910-021-01138-7
Holroyd KA. Assessment and psychological management of recurrent headache disorders. J Consult Clin Psychol 2002;70(3):656-677 Doi:10.1037//0022-006x.70.3.656
Pringsheim T, Davenport W, Mackie G, Worthington I, Aubé M, Christie SN, . . . Becker WJ. Canadian Headache Society guideline for migraine prophylaxis. Can J Neurol Sci 2012;39(2 Suppl 2):S1-59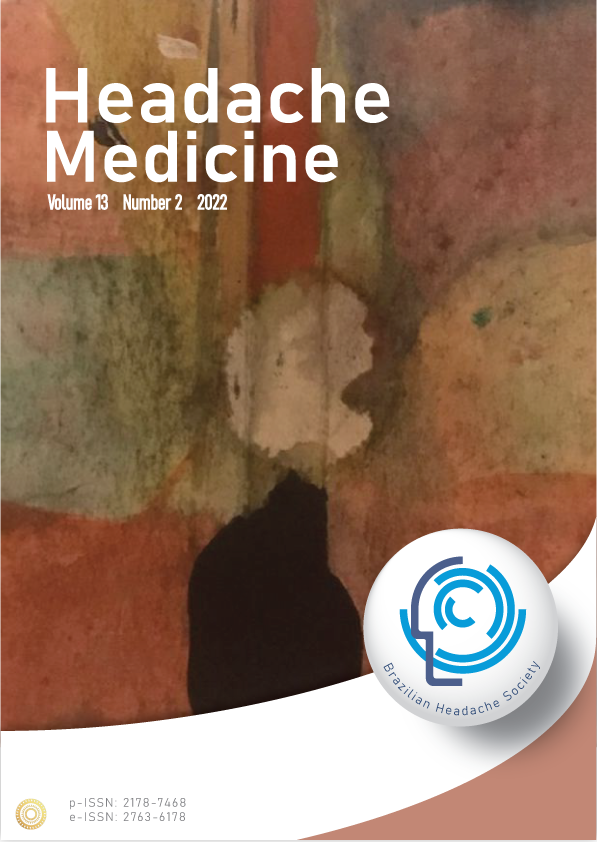 Downloads
How to Cite
1.
Yamada AML, Mercante JPP. The bidirectional relation of migraine and affective disorders. HM [Internet]. 2022 Jun. 13 [cited 2022 Jul. 7];13(2):145-7. Available from: https://headachemedicine.com.br/index.php/hm/article/view/610
Section
Commented Article
License
Copyright (c) 2022 Ana Maria Ladeira Yamada, Juliane Prieto Peres Mercante
This work is licensed under a Creative Commons Attribution 4.0 International License.