Red Ear Syndrome and migraine: case report and review of this peculiar association
Keywords:
migraine, migraine disorders, erythema, pain
Abstract
Introduction: The "Red Ear Syndrome" (RES) is a rare condition (about 100 cases were published in 25 years). It is characterized by episodes of hyperemia of the ear associated with burning pain. Although the association of this syndrome and primary headaches is contemplated in literature, its etiology and treatments are still poorly defined.
The aim of this paper is to report a case of RES related to migraine and possible pathophysiologic mechanisms.
Case Report: A 31-year-old woman presented with stabbing pain and marked erythema and edema of the right ear accompanied by burning and local hyperhidrosis. These attacks lasted 2 hours on average, and either occurred spontaneously or were associated with migraine without aura. The only means of relief during the attacks was cooling the local with ice.
Extensive laboratory-chemical, microbiological, ear-nose-throat, clinical and neurological examinations, magnetic resonance of the brain and cervical spine were unremarkable.
Conclusion: Uncertainty about the etiology of this syndrome is an obstacle to treatment. The frequent relationship between RES and migraine suggests that is necessary to investigate the syndrome in migraineurs. Furthermore, new reports about this disorder are important to increase the knowledge of physicians, to reduce the delay in diagnosis and suffering of patients.
Downloads
Download data is not yet available.
References
Lance JW. The red ear syndrome. Neurology 1996;47(3):617-620 Doi:10.1212/wnl.47.3.617
Donnet A and Valade D. The red ear syndrome. J Neurol Neurosurg Psychiatry 2004;75(7):1077 Doi:10.1136/jnnp.2003.030742
Purdy RA and Dodick DW. Red ear syndrome. Curr Pain Headache Rep 2007;11(4):313-316 Doi:10.1007/s11916-007-0210-8
Raieli V, Monastero R, Santangelo G, Eliseo GL, Eliseo M and Camarda R. Red ear syndrome and migraine: report of eight cases. Headache 2002;42(2):147-151 Doi:10.1046/j.1526-4610.2002.02033.x
Raieli V, Pandolfi E, La Vecchia M, Puma D, Calò A, Celauro A and Ragusa D. The prevalence of allodynia, osmophobia and red ear syndrome in the juvenile headache: preliminary data. J Headache Pain 2005;6(4):271-273 Doi:10.1007/s10194-005-0205-y
Raieli V, Compagno A, Brighina F, La Franca G, Puma D, Ragusa D, . . . D'Amelio M. Prevalence of red ear syndrome in juvenile primary headaches. Cephalalgia 2011;31(5):597-602 Doi:10.1177/0333102410388437
Ryan S, Wakerley BR and Davies P. Red ear syndrome: a review of all published cases (1996-2010). Cephalalgia 2013;33(3):190-201 Doi:10.1177/0333102412468673
Raieli V, Compagno A and D'Amelio M. Red Ear Syndrome. Curr Pain Headache Rep 2016;20(3):19 Doi:10.1007/s11916-016-0547-y
Lambru G, Miller S and Matharu MS. The red ear syndrome. J Headache Pain 2013;14(1):83 Doi:10.1186/1129-2377-14-83
Al-Din AS, Mir R, Davey R, Lily O and Ghaus N. Trigeminal cephalgias and facial pain syndromes associated with autonomic dysfunction. Cephalalgia 2005;25(8):605-611 Doi:10.1111/j.1468-2982.2005.00935.x
Marinis M and Accornero N. Recurrent neck pain as a variant of migraine: description of four cases. J Neurol Neurosurg Psychiatry 1997;62(6):669-670 Doi:10.1136/jnnp.62.6.669
Young WB, Peres MF and Rozen TD. Modular headache theory. Cephalalgia 2001;21(8):842-849 Doi:10.1046/j.1468-2982.2001.218254.x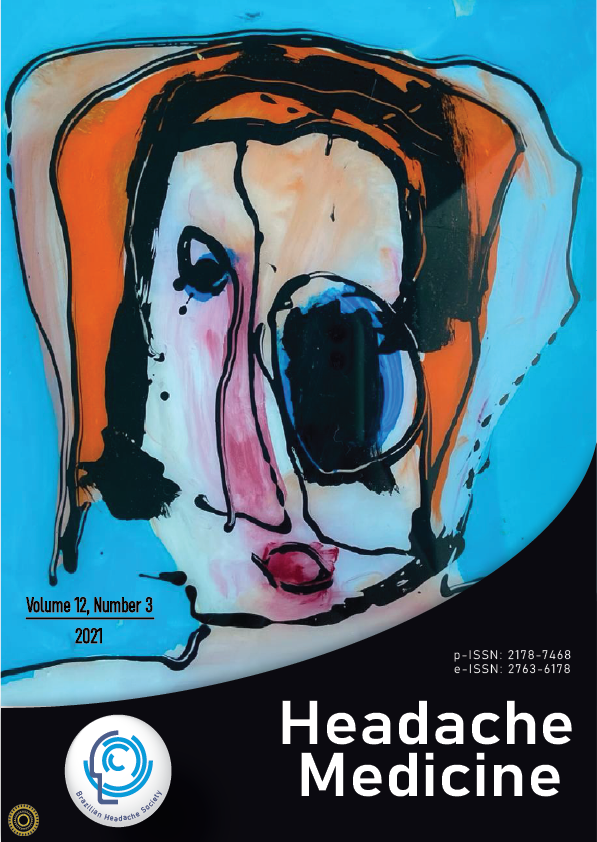 How to Cite
1.
Borri J, Silva Junior HM da. Red Ear Syndrome and migraine: case report and review of this peculiar association. HM [Internet]. 2022 Jan. 13 [cited 2022 Jan. 25];12(3):264-7. Available from: https://headachemedicine.com.br/index.php/hm/article/view/559
License
Copyright (c) 2022 Juiliana Borri, Hilton Mariano da Silva Junior
This work is licensed under a Creative Commons Attribution 4.0 International License.