Applicability of DSM-V substance use disorder (SUD) criteria in medication overuse headache (MOH)
Keywords:
Medication Overuse Headache, Substance use disorder, addiction, dependence, abuse, migraine
Abstract
Medication overuse headache (MOH) is a chronic secondary headache disorder attributed to the frequent or regular use of analgesics or acute antimigraine drugs in patients with a primary headache disorder. In addition, it has been linked to substance use disorder (SUD) also known as drug addiction, a persistent use of drugs or substances, despite substantial damage and adverse consequences, diagnosed by DSM-V criteria. At this time, apart from opioids, acute headache medications are not included in SUD. Despite the idea that the compulsive search for reward in MOH is similar to that observed in substance dependence, the DSM-V SUD criteria have never been carefully applied to MOH. We propose to discuss each DSM-V criterion of SUD diagnosis to see whether it is appropriate to use in MOH. We considered it was not-applicable when dealing with a situation that could be explained both by addictive behavior and by poorly controlled primary headache. We conclude that the SUD criteria should not be applied to patients who meet the criteria for MOH.
Downloads
Download data is not yet available.
References
Diener HC, Dodick D, Evers S, Holle D, Jensen RH, Lipton RB, et al. Pathophysiology, prevention, and treatment of medication overuse headache. The Lancet Neurology. 2019.
Olesen J, Bes A, Kunkel R, Lance JW, Nappi G, Pfaffenrath V, et al. The International Classification of Headache Disorders, 3rd edition (beta version). Cephalalgia. 2013;
Vincent MB. Controversy over the classification of medication-overuse headache. Current Pain and Headache Reports. 2012.
Scher AI, Rizzoli PB, Loder EW. Medication overuse headache An entrenched idea in need of scrutiny. Neurology. 2017;
Bigal ME, Serrano D, Buse D, Scher A, Stewart WF, Lipton RB. Acute migraine medications and evolution from episodic to chronic migraine: A longitudinal population-based study. Headache. 2008;
Carlsen LN, Munksgaard SB, Jensen RH, Bendtsen L. Complete detoxification is the most effective treatment of medication-overuse headache: A randomized controlled open-label trial. Cephalalgia. 2018;
Valguarnera F, Tanganelli P. The efficacy of withdrawal therapy in subjects with chronic daily headache and medication overuse following prophylaxis with topiramate and amitriptyline. Neurol Sci. 2010;
Paolucci M, Altamura C, Brunelli N, Rizzo AC, Assenza F, Pasqualetti P, et al. Methylprednisolone plus diazepam i.v. as bridge therapy for medication overuse headache. Neurol Sci. 2017;
Smith SM, Dart RC, Katz NP, Paillard F, Adams EH, Comer SD, et al. Classification and definition of misuse, abuse, and related events in clinical trials: ACTTION systematic review and recommendations. Pain [Internet]. 2013;154(11):2287–96. Available from: http://dx.doi.org/10.1016/j.pain.2013.05.053
Cooper R. Diagnostic and statistical manual of mental disorders (DSM). Knowledge Organization. 2017.
Radat F, Creac'h C, Guegan-Massardier E, Mick G, Guy N, Fabre N, et al. Behavioral dependence in patients with medication overuse headache: A cross-sectional study in consulting patients using the DSM-IV criteria. Headache. 2008;
Lundqvist C, Gossop M, Russell MB, Straand J, Kristoffersen ES. Severity of Analgesic Dependence and Medication-overuse Headache. J Addict Med. 2019;
Hasin D, Hatzenbuehler ML, Keyes K, Ogburn E. Substance use disorders: Diagnostic and Statistical Manual of Mental Disorders, fourth edition (DSM-IV) and International Classification of Diseases, tenth edition (ICD-10). Addiction. 2006;
Radat F, Chanraud S, Di Scala G, Dousset V, Allard M. Psychological and neuropsychological correlates of dependence-related behaviour in medication overuse headaches: a one year follow-up study. J Headache Pain. 2013;
Figee M, Pattij T, Willuhn I, Luigjes J, van den Brink W, Goudriaan A, et al. Compulsivity in obsessive-compulsive disorder and addictions. Eur Neuropsychopharmacol. 2016;
Shagbazyan AE, Sergeev A V., Evdokimova EM, Kurbanbagamaeva RR, Tabeeva GR. The role of emotional and behavioral disorders in the development of drug dependence in patients with medication-induced headache (review). Nevrologiya, Neiropsikhiatriya, Psikhosomatika. 2016.
Chanraud S, Di Scala G, Dilharreguy B, Schoenen J, Allard M, Radat F. Brain functional connectivity and morphology changes in medication-overuse headache: Clue for dependence-related processes? Cephalalgia. 2014;
Radat F, Lanteri-Minet M. What is the role of dependence-related behavior in medication-overuse headache? Headache. 2010.
Ferrari A, Coccia C, Sternieri E. Past, present, and future prospects of medication-overuse headache classification. Headache. 2008.
Roerig JL, Steffen KJ, Mitchell JE, Zunker C. Laxative abuse: Epidemiology, diagnosis and management. Drugs. 2010.
CDC. Prescription Painkiller Overdoses: A Growing Epidemic, Especially Among Women. Vital Signs. 2013;
Bell K, Salmon A. Pain, physical dependence and pseudoaddiction: Redefining addiction for "nice" people? Int J Drug Policy. 2009;
Cooper RJ. Over-the-counter medicine abuse – a review of the literature. J Subst Use [Internet]. 2013 Apr 3 [cited 2020 Apr 2];18(2):82–107. Available from: http://www.tandfonline.com/doi/full/10.3109/14659891.2011.615002
Heit HA. Addiction, physical dependence, and tolerance: Precise definitions to help clinicians evaluate and treat chronic pain patients. J Pain Palliat Care Pharmacother. 2003;17(1):15–29.
National Institute on Drug Abuse. Drug, brains, and behavior. The science of addiction. Nida. 2010;
O'Brien CP, Volkow N, Li TK. What's in a word? Addiction versus dependence in DSM-V. Vol. 163, American Journal of Psychiatry. American Psychiatric Association; 2006. p. 764–5.
Weaver M, Schnoll S, Jamison RN. Abuse liability in opioid therapy for pain treatment in patients with an addiction history. Clin J Pain. 2002;18(4 SUPPL.).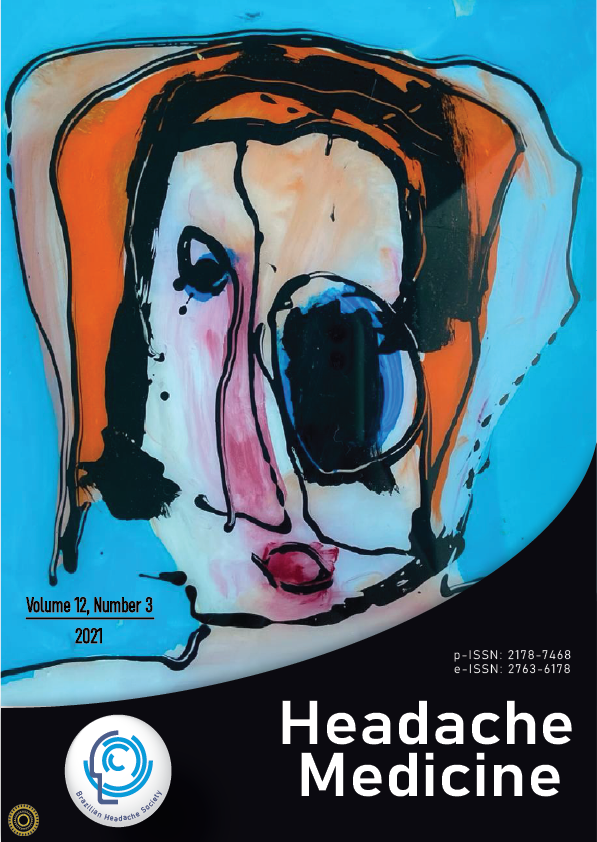 How to Cite
1.
Lima TAC de, Peres MFP, Silberstein SD. Applicability of DSM-V substance use disorder (SUD) criteria in medication overuse headache (MOH). HM [Internet]. 2022 Jan. 13 [cited 2022 Jan. 25];12(3):240-6. Available from: https://headachemedicine.com.br/index.php/hm/article/view/557
License
Copyright (c) 2022 Thaiza Agostini Córdoba de Lima, Mario Fernando Prieto Peres, Stephen D. Silberstein
This work is licensed under a Creative Commons Attribution 4.0 International License.