Occipital nerve block and Maitland physiotherapy: review of treatment techniques based on positive results.
Keywords:
Neck pain, Physical therapy modalities, Nerve block
Abstract
Cervicogenic headache is a clinical condition that has a direct impact on quality of life and labor productivity and its underdiagnosis and lack of consensus on the appropriate treatment aggravates even more the condition. This work aims to systematize the protocol that has the highest success rate so far, based on the study carried out in Pindamonhangaba, São Paulo, Brazil. The results demonstrated with the occipital block and Maitland physiotherapy were exceptional and its methodology will be carried out as performed during the study.
Conclusion: Regardless of the substance used for the blockade, its combination with Maitland's physiotherapy was shown to be favorable and its description can help other professionals and also enable reproduction in other studies.
Downloads
Download data is not yet available.
References
Olesen J. Headache Classification Committee of the International Headache Society (IHS) The International Classification of Headache Disorders, 3rd edition. Cephalalgia. 2018;38(1):1-211. doi:10.1177/0333102417738202
Anarte-Lazo E, Carvalho GF, Schwarz A, Luedtke K, Falla D. Differentiating migraine, cervicogenic headache and asymptomatic individuals based on physical examination findings: a systematic review and meta-analysis. BMC Musculoskelet Disord. 2021;22(1):1-18. doi:10.1186/s12891-021-04595-w
Correia C, Monteiro P. Cefaleia Cervico Génica. Published online 1992:155-158.
Antonaci F, Ghirmai S, Bono G, Sandrini G, Nappi G. Cervicogenic headache: Evaluation of the original diagnostic criteria. Cephalalgia. 2001;21(5):573-583. doi:10.1046/j.0333-1024.2001.00207.x
Bogduk N, Govind J. Cervicogenic headache: an assessment of the evidence on clinical diagnosis, invasive tests, and treatment. Lancet Neurol. 2009;8(10):959-968. doi:10.1016/S1474-4422(09)70209-1
César AR de A, Costa IDP da, Botelho WGN, Sperafico N, Groto AD, Felício AC. Postural physiotherapy for cervicogenic headache after occipital nerve block: a retrospective study. Res Soc Dev. 2021;10(12):e165101219994. doi:10.33448/rsd-v10i12.19994
Anthony M. Cervicogenic headache: Prevalence and response to local steroid therapy. Clin Exp Rheumatol. 2000;18(2 SUPPL. 19).
Tepe N, Tertemiz OF. Comparison of greater occipital nerve and greater occipital nerve + supraorbital nerve block effect in chronic medication overuse headache. Turkish J Med Sci. 2021;51(3):1065-1071. doi:10.3906/sag-2009-101
Kim J-S, Sangwook Ko J, Bang S, Kim H, Young L. Cervical Plexus Block 2018 Korean. Korean J Anesthesiol. 2018;August 71(4):274-288.
Karvat J, Antunes JS, Bertolini GRF. Posteroanterior lumbar spine mobilizations in healthy female volunteers. Evaluation of pain to cold and pressure: crossover clinical trial. Rev Dor. 2014;15(1):21-24. doi:10.5935/1806-0013.20140006
Bailey E, Heneghan NR, Cassidy NJ, Falla D, Rushton AB. Clinical effectiveness of manipulation and mobilisation interventions for the treatment of non-specific neck pain: Protocol for a systematic review and meta-Analysis. BMJ Open. 2020;10(10):1-6. doi:10.1136/bmjopen-2020-037783
Wang E, Wang D. Treatment of Cervicogenic Headache with Cervical Epidural Steroid Injection. Curr Pain Headache Rep. 2014;18(9):3-7. doi:10.1007/s11916-014-0442-3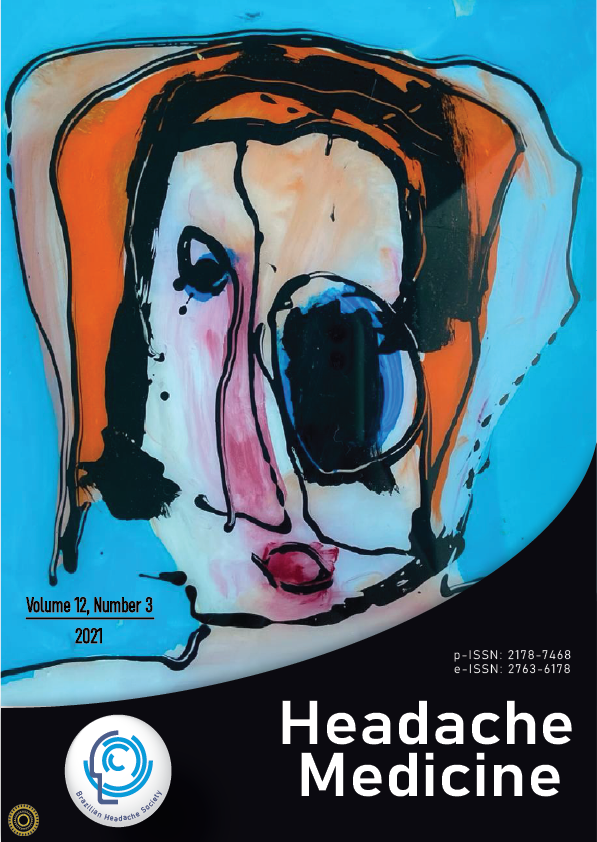 How to Cite
1.
Botelho WGN, Signori LS, César AR de A. Occipital nerve block and Maitland physiotherapy: review of treatment techniques based on positive results. HM [Internet]. 2021 Dec. 4 [cited 2022 Jan. 25];12(3):231-4. Available from: https://headachemedicine.com.br/index.php/hm/article/view/469
License
Copyright (c) 2021 Wesley Gabriel Novaes Botelho, Laura Suelen Signori, Alcântara Ramos de Assis César
This work is licensed under a Creative Commons Attribution 4.0 International License.