Cluster headache due to intranasal herpes simplex: a case report
Keywords:
Cluster headache , Intranasal herpes, Secondary cluster headache, Herpes simplex, Valacyclovir, Melatonin
Abstract
Cluster headache is characterized by pain in the first division of trigeminal nerve along with autonomic features, with attacks last from 15 minutes to 180, up to eight times a day. Albeit considered as a primary headache, it may be mimicked by structural diseases like infections, inflammatory, tumoral and vascular. Intranasal and sinus infectious were also reported. Herpes simplex infections are quite common in the general population, and the nerve ganglia are the natural reservoir of the virus. Intranasal herpes, on the other hand, is exceedingly rare, with only few cases reported in the literature. Our main objective is to describe a case report of a 49-year-old male who was diagnosed with intranasal herpes infection during a bout of cluster headache, evaluated by an otolaryngologist. He got free of symptoms after using valacyclovir and melatonin. Thus, herpes simplex might be involved in the mechanisms of secondary or primary cluster headache.  Further research is necessary to help elucidate this relationship.
Downloads
Download data is not yet available.
References
May A, Schwedt TJ, Magis D, Pozo-Rosich P, Evers S and Wang SJ. Cluster headache. Nat Rev Dis Primers 2018;4:18006 Doi:10.1038/nrdp.2018.6
Ljubisavljevic S and Zidverc Trajkovic J. Cluster headache: pathophysiology, diagnosis and treatment. J Neurol 2019;266(5):1059-1066 Doi:10.1007/s00415-018-9007-4
Long RJ, Zhu YS and Wang AP. Cluster headache due to structural lesions: A systematic review of published cases. World J Clin Cases 2021;9(14):3294-3307 Doi:10.12998/wjcc.v9.i14.3294
Widener RW and Whitley RJ. Herpes simplex virus. Handb Clin Neurol 2014;123:251-263 Doi:10.1016/b978-0-444-53488-0.00011-0
Arriola A, Torres R and Soto V. Nasal herpes after rhinoplasty. Plast Reconstr Surg 2004;113(3):1077-1079 Doi:10.1097/01.prs.0000108822.08863.05
Kaplon A, Kedarisetty S and McLean C. Intranasal Herpes Simplex Virus (HSV): A Unique Mimicker of Acute Invasive Fungal Rhinosinusitis. Ear
Nose Throat J 2021;100(5 suppl):498s-499s Doi:10.1177/0145561319885715
Barton SE, Parkin JM and Goldmeier D. Cluster headache and herpes simplex. Br Med J (Clin Res Ed) 1985;291(6490):284 Doi:10.1136/bmj.291.6490.284-b
Gnann JW, Jr. and Whitley RJ. Herpes Simplex Encephalitis: an Update. Curr Infect Dis Rep 2017;19(3):13 Doi:10.1007/s11908-017-0568-7
Ramchandani M, Kong M, Tronstein E, Selke S, Mikhaylova A, Magaret A, . . . Wald A. Herpes Simplex Virus Type 1 Shedding in Tears and Nasal and Oral Mucosa of Healthy Adults. Sex Transm Dis 2016;43(12):756-760 Doi:10.1097/olq.0000000000000522
Giacovazzo M. New findings in cluster headache. Ann Ital Med Int 1990;5(3 Pt 3):303-311
Theil D, Derfuss T, Paripovic I, Herberger S, Meinl E, Schueler O, . . . Brandt T. Latent herpesvirus infection in human trigeminal ganglia causes chronic immune response. Am J Pathol 2003;163(6):2179-2184 Doi:10.1016/s0002-9440(10)63575-4
Lee MJ, Cho SJ, Park JW, Chu MK, Moon HS, Chung PW, . . . Chung CS. Temporal changes of circadian rhythmicity in cluster headache. Cephalalgia 2020;40(3):278-287 Doi:10.1177/0333102419883372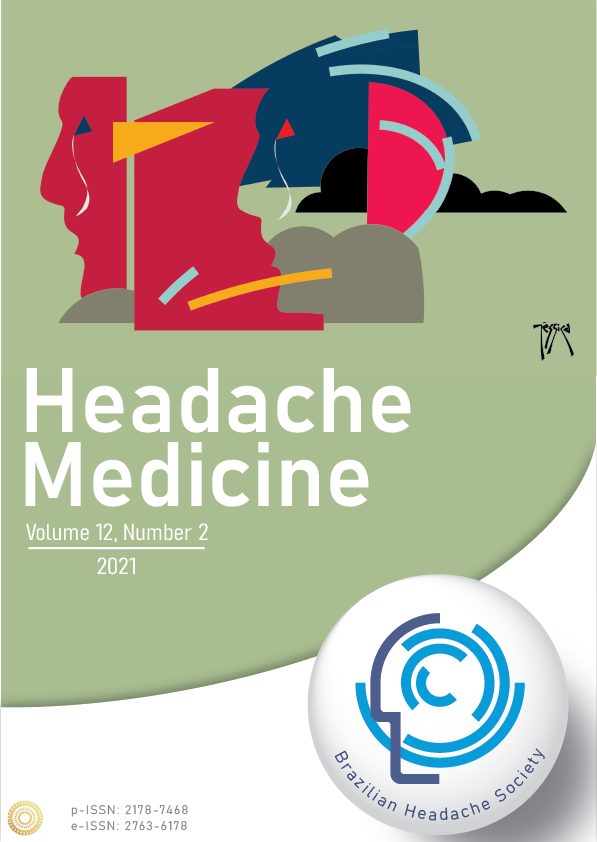 How to Cite
1.
Bernardes L de S, Domingues RB, Peres MFP. Cluster headache due to intranasal herpes simplex: a case report. HM [Internet]. 2021 Oct. 17 [cited 2022 May 26];12(2):141-3. Available from: https://headachemedicine.com.br/index.php/hm/article/view/465
License
Copyright (c) 2021 Leonardo de Sousa Bernardes, Renan Barros Domingues, Mário Fernando Prieto Peres
This work is licensed under a Creative Commons Attribution 4.0 International License.