Hydrocephaly and secondary intracranial hypertension to racemosa neurocysticercosis
Keywords:
Hydrocephalus, Intracranial Hypertension, Neurocysticercosis
Abstract
Case report
G.F.M, 71 years old, male, farmer, presented a history of holocranial headache of a pulsatile type, more intense on waking, and associated with photophobia. The complaint lasted six months. He also reported episodes of tinnitus and unilateral hearing loss on the left. After conducting screening tests in the emergency department, communicating hydrocephalus and cystic lesions were found in the subarachnoid and intraparenchymal space. In the neurological examination, the positive data were bilateral papilledema and hearing loss in the left boné conduction. Given these findings, the racemous variant of neurocysticercosis and secondary hydrocephalus was suspected, causing intracranial hypertension. Thus, it was decided to start specific treatment with albendazole 15 mg/kg/day (two daily doses), associated with praziquantel 50 mg/kg/day (three daily doses), for 14 days. To reduce the inflammatory process of the lesions, it was proposed to keep the patient on dexamethasone 8 mg/day for 90 days. In addition to this scheme, topiramate 100 mg/day associated with acetazolamide 1 g/day was started, along with serial lumbar puncture to relieve intracranial pressure.
Conclusion
The combination of modern diagnostic tests, use of antiparasitic drugs, optimization of anti-inflammatory treatments and minimally invasive neurosurgical procedures have improved results in patients with NCC. Even so, this is the helminth infection that most affects the CNS and represents a major public health problem in most parts of the world, since it remains a neglected pathology, like so many other parasites, given that it is susceptible to containment through simple preventive actions as well as eradication.
Downloads
Download data is not yet available.
References
Frackowiak M, Sharma M, Singh T, Mathew A and Michael BD. Antiepileptic drugs for seizure control in people with neurocysticercosis. Cochrane Database Syst Rev 2019;10(10):Cd009027 Doi:10.1002/14651858.CD009027.pub3
Coyle CM. Neurocysticerosis: An Individualized Approach. Infect Dis Clin North Am 2019;33(1):153-168 Doi:10.1016/j.idc.2018.10.007
White Jr AC, Coyle CM, Rajshekhar V, Singh G, Hauser WA, Mohanty A, . . . Nash TE. Diagnosis and treatment of neurocysticercosis: 2017 clinical practice guidelines by the Infectious Diseases Society of America (IDSA) and the American Society of Tropical Medicine and Hygiene (ASTMH). J Clinical Infectious Diseases 2018;66(8):e49-e75 Doi: 10.1093/cid/cix1084
Hong BY, Bean A, Vickers A, Cykowski M and Lee AG. Fourth Nerve Palsy Due to Neurocysticercosis. J Neuroophthalmol 2020;40(3):414-416 Doi:10.1097/wno.0000000000000785
Krupa K, Krupa K, Pisculli ML, Athas DM and Farrell CJ. Racemose neurocysticercosis. Surg Neurol Int 2016;7:12 Doi:10.4103/2152-7806.175881
Costa PS, Santiago IG, Lima WR, Santos CS, Rocha AV and Fortes PM. Racemose neurocysticercosis: a cluster of bad grapes. Int J Infect Dis 2016;48:5-6 Doi:10.1016/j.ijid.2016.04.012
McClugage SG, Lee RA, Camins BC, Mercado-Acosta JJ, Rodriguez M and Riley KO. Treatment of racemose neurocysticercosis. Surg Neurol Int 2017;8:168 Doi:10.4103/sni.sni_157_17
White AC, Jr. and Garcia HH. Updates on the management of neurocysticercosis. Curr Opin Infect Dis 2018;31(5):377-382 Doi:10.1097/qco.0000000000000480
Gripper LB and Welburn SC. Neurocysticercosis infection and disease-A review. Acta Trop 2017;166:218-224 Doi:10.1016/j.actatropica.2016.11.015
Delgado-García G, Méndez-Zurita VA, Bayliss L, Flores-Rivera J and Fleury A. Neurocysticercosis: mimics and chameleons. Pract Neurol 2019;19(2):88-95 Doi:10.1136/practneurol-2017-001788
P N and G B. Handbook of Clinical Neurology: Neurologic Aspects of Systemic Disease Part III. Elsevier 2014;121(97):1445 -1459
Reddy DS and Volkmer R, 2nd. Neurocysticercosis as an infectious acquired epilepsy worldwide. Seizure 2017;52(176-181 Doi:10.1016/j.seizure.2017.10.004
Garcia HH. Neurocysticercosis. Neurol Clin 2018;36(4):851-864 Doi:10.1016/j.ncl.2018.07.003
White AC. Cysticercosis: Treatment [Internet]. UpToDate. 2019 [cited 2020 Dec 9]. Available from: https://www.uptodate.com/contents/cysticercosistreatment?search=neurocisticercose%20racemosa&source=search_result&selectedTitle=3~20&usage_type=default&display_rank=3#H1312982321.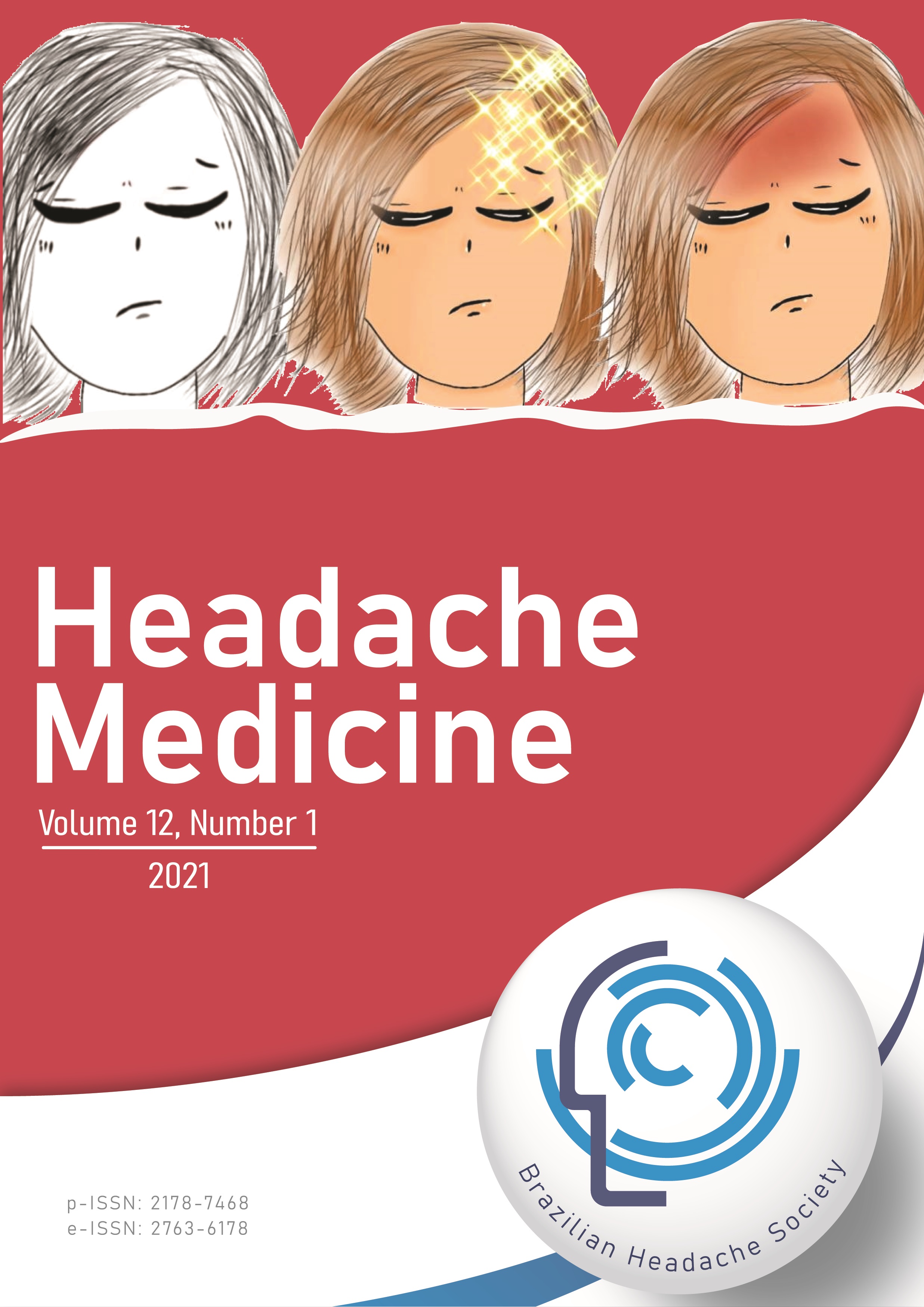 How to Cite
1.
Sampaio PGG, Maracajá HD, Temoteo TCM, Figueiredo SRN, Batista FL de A. Hydrocephaly and secondary intracranial hypertension to racemosa neurocysticercosis. HM [Internet]. 2021 Aug. 27 [cited 2021 Sep. 26];:55-8. Available from: https://headachemedicine.com.br/index.php/hm/article/view/449
License
Copyright (c) 2021 Patrick Giordanni Gomes Sampaio, Hiago Diniz Maracajá, Túlio Carneiro Monteiro Temoteo, Sara Raquel Nóbrega Figueiredo, Francielle Lopes de Araújo Batista
This work is licensed under a Creative Commons Attribution 4.0 International License.