Migraine and premenstrual syndrome: comorbid disorders?
Keywords:
Premenstrual syndrome;, migraine, headache, neurology, gynecology
Abstract
Introduction
Headache is a common symptom among women, including during the menstrual cycle. The migraine frequency in women who present migraine associated with the menstrual period ranges from 50% to 70%. Premenstrual syndrome (PMS) is prevalent among women, affecting 80% to 90% of them throughout their lives.
Objective
The objectives of this study were to verify PMS prevalence and its characteristics among women who present with cephalalgia in the neurology ambulatory care unit and show the prevalence of headache and its association with PMS in the gynecology ambulatory care unit.
Methods
It is a descriptive and qualitative study which was carried out at Emilio Carlos Teaching Hospital in the neurology and gynecology ambulatory care units with women aged 18 to 52 years old. Eighty-seven questionnaires were distributed and self-applied throughout the year of 2018 for data collection. Each questionnaire consisted of 27 questions about the life cycle of the women and their headache episodes. The diagnostic criteria for headache and migraine from the International Headache Society were used. Criteria for PMS were met according to the quality of life questionnaire.
Results
In gynecology unit group, 9% of the women did not present headache, 76% had PMS and 94% presented with headache during PMS. In neurology, 79% of the women had PMS and 79% of the women who presented with cephalalgia also had PMS.
Conclusion
There is a large percentage of PMS in both groups, i.e. neurological unit and gynecological unit, showing it is not a spurious correlation.
Downloads
Download data is not yet available.
References
Buse DC, Loder EW, Gorman JA, Stewart WF, Reed ML, Fanning KM, . . . Lipton RB. Sex Differences in the Prevalence, Symptoms, and Associated Features of Migraine, Probable Migraine and Other Severe H eadache: Results of the A merican Migraine Prevalence and Prevention (AMPP) Study. Headache: The Journal of Head and Face Pain 2013;53(1):1278-1299 Doi: 10.1111/head.12150
Pavlović JM, Allshouse AA, Santoro NF, Crawford SL, Thurston RC, Neal-Perry GS, . . . Derby CA. Sex hormones in women with and without migraine: evidence of migraine-specific hormone profiles. Neurology 2016;87(2):49-56 Doi: 10.1212/WNL.0000000000002798
Martin VT, Pavlovic J, Fanning KM, Buse DC, Reed ML and Lipton RB. Perimenopause and menopause are associated with
high frequency headache in women with migraine: results of the American migraine prevalence and prevention study. Headache: The Journal of Head and Face Pain 2016;56(3):292-305 Doi: 10.1111/head.12763
Cupini L, Matteis M, Troisi E, Calabresi P, Bernardi G and Silvestrini M. Sex-hormone-related events in migrainous females. A clinical comparative study between migraine with aura and migraine without aura. Cephalalgia 1995;15(4):140-144 Doi: 10.1046/j.1468-2982.1995.015002140.x
Loder E, Rizzoli P and Golub J. Hormonal Management of Migraine Associated With Menses and the Menopause: A Clinical Review: CME. Headache: The Journal of Head and Face Pain 2007;47(5):329-340 Doi: 10.1111/j.1526-4610.2006.00710.x
Puri V, Puri S, Svojanovsky S, Mathur S, Macgregor R, Klein R, . . . Berman N. Effects of oestrogen on trigeminal ganglia in culture: implications for hormonal effects on migraine. Cephalalgia 2006;26(6):33-42 Doi: 10.1111/j.1468-2982.2005.00987.x
Calhoun AH. Migraine and menopause. 2004;7): Doi: 10.1111/j.1526-4610.2004.04020.x
Miziara L, Bigal ME, Bordini CA and Speciali JG. Cefaléia menstrual: estudo semiológico de 100 casos. Arquivos de Neuro-Psiquiatria 2003;61(8):596-600 Doi: 10.1590/S0004-282X2003000400013
Szekely B, Botwin D, Eidelman BH, Becker M, Elman N and Schemm R. Nonpharmacological treatment of menstrual headache: relaxation-biofeedback behavior therapy and person-centered insight therapy. Headache: The Journal of Head and Face Pain 1986;26(9):86-92 Doi: 10.1111/j.1526-4610.1986.hed2602086.x
De Lignieres B, Vincens M, Mauvais-Jarvis P, Mas J, Touboul P and Bousser M. Prevention of menstrual migraine by percutaneous oestradiol. British medical journal (Clinical research ed.) 1986;293(10):1540 Doi: 10.1136/bmj.293.6561.1540
Arnold M. Headache classification committee of the international headache society (IHS) the international classification of headache disorders. Cephalalgia 2018;38(11):1-211 Doi: 10.1177/0333102417738202
Reid RL and Soares CN. Premenstrual dysphoric disorder: contemporary diagnosis and management. Journal of obstetrics and gynaecology Canada 2018;40(12):215-223 Doi: 10.1016/j.jogc.2017.05.018
Warnock JK, Cohen LJ, Blumenthal H and Hammond JE. Hormone-Related Migraine Headaches and Mood Disorders: Treatment with Estrogen Stabilization. Pharmacotherapy: The Journal of Human Pharmacology and Drug Therapy 2017;37(13):120-128 Doi: 10.1002/phar.1876
Appolinário J. TDPM: transtorno disfórico pré-menstrual. São Paulo. Editora Segmento 2003;14).
Negro A, Napoletano F, Lionetto L, Marsibilio F, Sani G, Girardi P and Martelletti P. Treatment of menstrual migraine: utility of control of related mood disturbances. Expert review of neurotherapeutics 2014;14(15):493-502 Doi: 10.1586/14737175.2014.906304
Ribeiro HJM. Influência hormonal na enxaqueca. 2012;16):
Güven B, Güven H and Çomoğlu S. Clinical characteristics of menstrually related and non-menstrual migraine. Acta Neurologica Belgica 2017;117(17):671-676 Doi: 10.1007/s13760-017-0802-y
Diamond ML, Cady RK, Mao L, Biondi DM, Finlayson G, Greenberg SJ and Wright P. Characteristics of migraine attacks and responses to almotriptan treatment: a comparison of menstrually related and nonmenstrually related migraines. Headache: The Journal of Head and Face Pain 2008;48(18):248-258 Doi: 10.1111/j.1526-4610.2007.01019.x
Fettes I. Menstrual migraine: methods of prevention and control. Postgraduate medicine 1997;101(19):67-77 Doi: 10.3810/pgm.1997.05.236
Facchinetti F, Sances G, Borella P, Genazzani AR and Nappi G. Magnesium prophylaxis of menstrual migraine: effects on intracellular magnesium. Headache: The Journal of Head and Face Pain 1991;31(20):298-301 Doi: 10.1111/j.1526-4610.1991.hed3105298.x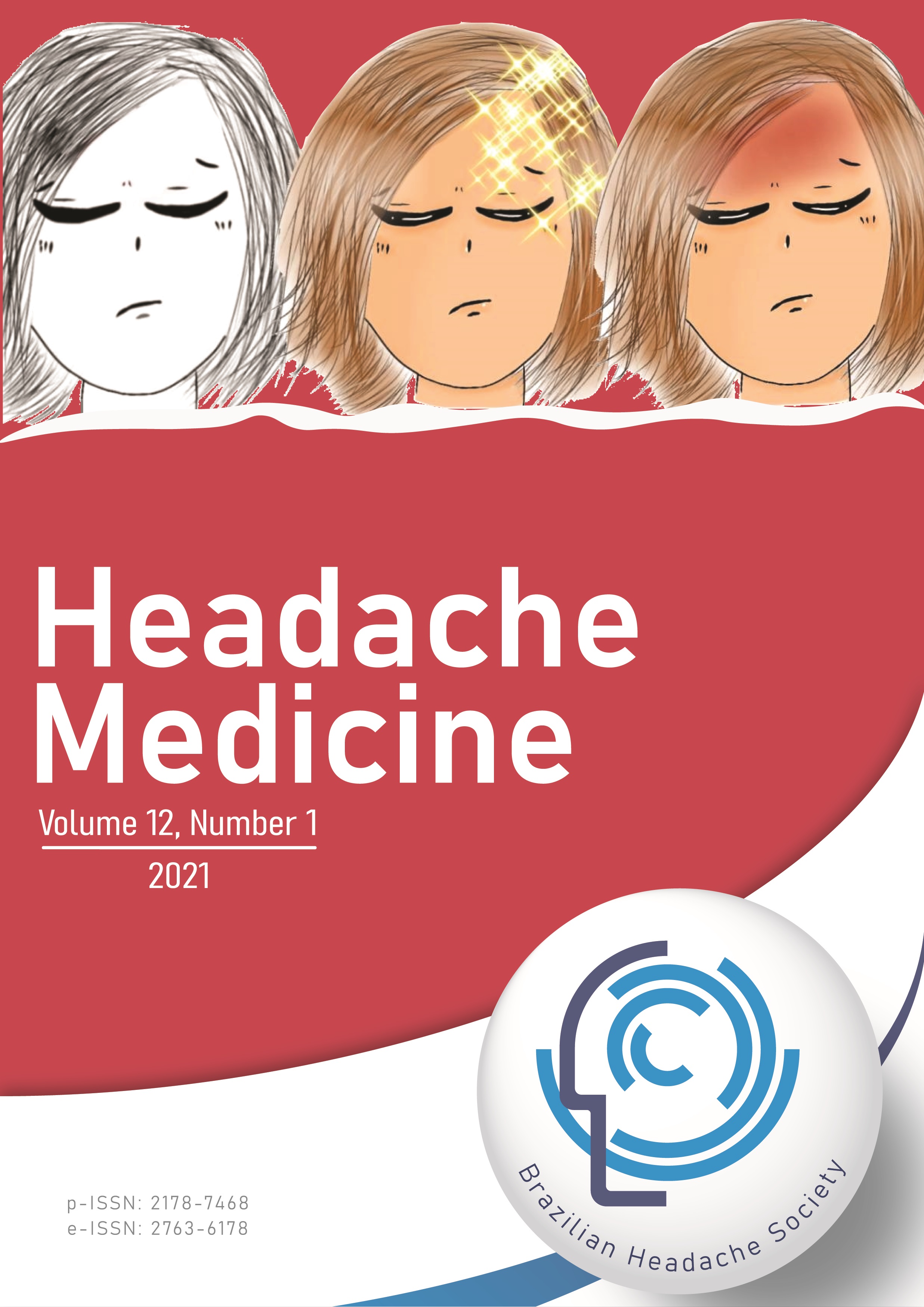 How to Cite
1.
Melhado EM, Eschiapati TR, Picolo JB, Santos MA, Tahan GM, Maria RD, Volpato-de-Matos AC. Migraine and premenstrual syndrome: comorbid disorders?. HM [Internet]. 2021 Aug. 3 [cited 2021 Sep. 26];:23-8. Available from: https://headachemedicine.com.br/index.php/hm/article/view/442
License
Copyright (c) 2021 Eliana Melhado, Túlio Eschiapati, Ana Clara Volpato-de-Matos, Guilherme Tahan, Jéssica Bidurin, Mariana Santos, Rafael Maria
This work is licensed under a Creative Commons Attribution 4.0 International License.