Paroxysmal hemicrania associated to carotid artery dissection: a case report
Keywords:
Paroxysmal hemicrania, Secondary headaches, Carotid dissection
Abstract
There are numerous case reports relating trigeminal autonomic cephalalgias to structural injuries. However there is no description of the association between paroxysmal hemicrania and carotid artery dissection.  We describe a previously healthy 63-year-old male presented with the onset of severe, throbbing pain in the right frontal region, lasting between 10 and 30 minutes, with a frequency of approximately two to three attacks per day, which began two days before seeking medical care. Pain was associated with ipsilateral tearing, semiptosis and nasal congestion. A cervical arterial magnetic resonance angiography demonstrated left carotid artery dissection in the C1/C2 segment of the left internal carotid artery. The patient became asymptomatic after indomethacin use. We conclude that the possibility of investigating carotid dissection should be considered in patients with paroxysmal hemicrania.  
Downloads
Download data is not yet available.
References
Headache Classification Committee of the International Headache Society (IHS) The International Classification of Headache Disorders, 3rd edition (2018). Cephalalgia 38 (1):1-211. doi:10.1177/0333102417738202
Cittadini E, Matharu MS (2009) Symptomatic trigeminal autonomic cephalalgias. The neurologist 15 (6):305-312. doi:10.1097/NRL.0b013e3181ad8d67
de Coo IF, Wilbrink LA, Haan J (2015) Symptomatic Trigeminal Autonomic Cephalalgias. Current pain and headache reports 19 (8):39. doi:10.1007/s11916-015-0514-z
Chowdhury D (2018) Secondary (Symptomatic) Trigeminal Autonomic Cephalalgia. Annals of Indian Academy of Neurology 21 (Suppl 1):S57-s69. doi:10.4103/aian.AIAN_16_18
Bazan R, Almeida LA, Rocha FC, Raffin CN, Fonseca RG (2008) Headache secondary to haemorrhagic stroke resembling paroxysmal hemicrania. Arquivos de neuro-psiquiatria 66 (3b):761-762
Gatzonis S, Mitsikostas DD, Ilias A, Zournas CH, Papageorgiou C (1996) Two more secondary headaches mimicking chronic paroxysmal hemicrania. Is this the exception or the rule? Headache 36 (8):511-513
Monzillo P, Nemoto P, Costa A, Rocha AJ (2007) Paroxysmal hemicrania-tic and Chiari I malformation: an unusual association. Cephalalgia 27 (12):1408-1412. doi:10.1111/j.1468-2982.2007.01362.x
Beams JL, Rozen TD (2011) Paroxysmal hemicrania as the clinical presentation of giant cell arteritis. Clinics and practice 1 (4):e111. doi:10.4081/cp.2011.e111
Grangeon L, Moscatelli L, Zanin A, Rouille A, Maltete D, Guegan-Massardier E (2017) Indomethacin-Responsive Paroxysmal Hemicrania in an Elderly Man: An Unusual Presentation of Pituitary Apoplexy. Headache 57 (10):1624-1626. doi:10.1111/head.13201
Matharu M, May A (2008) Functional and structural neuroimaging in trigeminal autonomic cephalalgias. Current pain and headache reports 12 (2):132-137
Obermann M, Holle D, Nagel S (2018) Functional Neuroimaging in Trigeminal Autonomic Cephalalgias. Annals of Indian Academy of Neurology 21 (Suppl 1):S51-s56. doi:10.4103/aian.AIAN_357_17
Brilla R, Pawlowski M, Evers S (2018) Hemicrania continua in carotid artery dissection - symptomatic cases or linked pathophysiology? Cephalalgia 38 (2):402-405. doi:10.1177/0333102416686346
Prakash S, Patell R (2014) Paroxysmal hemicrania: an update. Current pain and headache reports 18 (4):407. doi:10.1007/s11916-014-0407-6
Matharu MS, Cohen AS, Frackowiak RS, Goadsby PJ (2006) Posterior hypothalamic activation in paroxysmal hemicrania. Annals of neurology 59 (3):535-545. doi:10.1002/ana.20763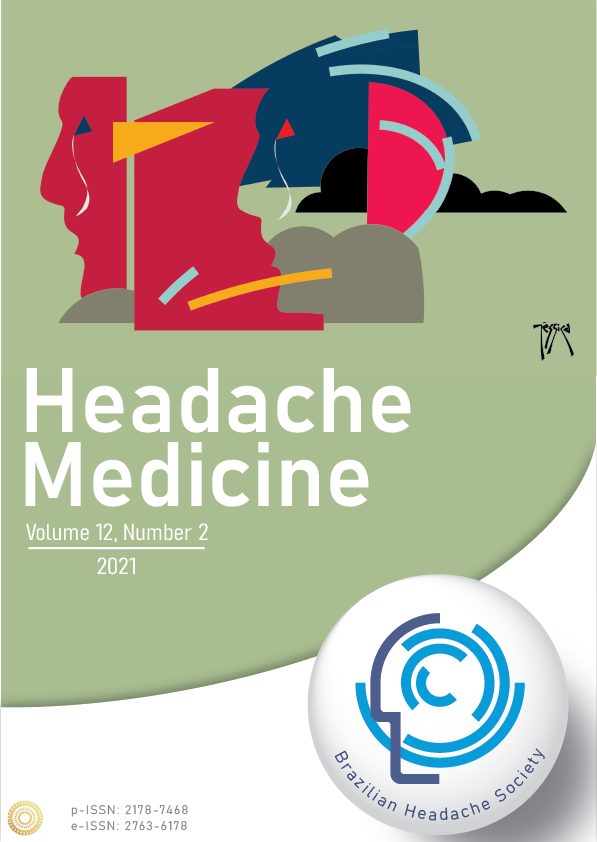 How to Cite
1.
Oliveira FAA, Rocha-Filho PAS. Paroxysmal hemicrania associated to carotid artery dissection: a case report. HM [Internet]. 2021 Sep. 27 [cited 2022 May 26];12(2):144-7. Available from: https://headachemedicine.com.br/index.php/hm/article/view/436
License
Copyright (c) 2021 Felipe Araújo Andrade Oliveira, Pedro Augusto Sampaio Rocha-Filho
This work is licensed under a Creative Commons Attribution 4.0 International License.