"Sound attacks": a case report of migraine with hearing aura
Keywords:
Headache, Migraine with Aura, Migraine Disorders, Pain
Abstract
Introduction
Migraine with aura is less frequent than the subtype form without aura. Normally, auras are typically manifested visual symptoms, but it is possible to have an auditory and olfactory complains as aura symptomatology.
Case report
An 8-year-old boy with family cases of migraine, complained of auditory hallucination episodes, since he was 5 years-old, with a duration of 10 to 20 minutes, followed by cure with intense photophobia and nausea. He called these episodes as "sound attacks". The frequency of the crises ranges from 4 to 5 episodes per month, with the maximum of 11 episodes in one month.
Neurological examination was normal. He performed angio-MRI of skull and EEG, without any changes. Treatment was initiated with 250 mg sodium divalproate at night with reduction of events, already in the first month, for 2 to 3 episodes per month. The medication was adjusted for 500 mg of sodium divalproate with a good result, not presenting new episodes in the last 2 months.
Conclusion
We report a case of migraine crises preceded by auditory aura, in a boy of 8 years. This is a rare and extremely interesting presentation of migraine, with great improvement after the prophylactic treatment.
Downloads
Download data is not yet available.
References
Burstein R, Noseda R and Borsook D. Migraine: Multiple Processes, Complex Pathophysiology. The Journal of neuroscience : the official journal of the Society for Neuroscience 2015;35(17):6619-6629 Doi: 10.1523/jneurosci.0373-15.2015
Silberstein SD. Migraine. Lancet (London, England) 2004;363(9406):381-391 Doi: 10.1016/s0140-6736(04)15440-8
The International Classification of Headache Disorders, 2nd edition. Cephalalgia: an international journal of headache 2004;24 Suppl 1(9-160) Doi: 10.1111/j.1468-2982.2003.00824.x
Li D, Christensen AF and Olesen J. Field-testing of the ICHD-3 beta/proposed ICD-11 diagnostic criteria for migraine with aura. Cephalalgia: an international journal of headache 2015;35(9):748-756 Doi: 10.1177/0333102414559731
Foroozan R and Cutrer FM. Transient neurologic dysfunction in migraine. Neurologic clinics 2009;27(2):361-378 Doi: 10.1016/j.ncl.2008.11.002
Lauritzen M. Pathophysiology of the migraine aura. The spreading depression theory. Brain : a journal of neurology1994;117:199-210 Doi: 10.1093/brain/117.1.199
Whitman BW and Lipton RB. Oscillocusis: An Unusual Auditory Aura in Migraine. Headache Medicine 1995;35(7):428-429 Doi: 10.1111/j.1526-4610.1995.hed3507428.x
Harker L. Migraine-associated vertigo. In: Nova York: Oxford Univ Press1996; 407–417
Olsson J. Neurotologic Findings in Basilar Migraine. Laryngoscope 1991;101(S52):1-41 Doi: 10.1002/lary.1991.101.s52.1
Schreier HA. Auditory Hallucinations in Nonpsychotic Children With Affective Syndromes and Migraines: Report of 13 Cases. Journal of child neurology 1998;13(8):377-382 Doi: 10.1177/088307389801300803
Ambrosini A, Rossi P, De Pasqua V, Pierelli F and Schoenen J. Lack of habituation causes high intensity dependence of auditory evoked cortical potentials in migraine. Brain: a journal of neurology 2003;126(9):2009-2015 Doi: 10.1093/brain/awg206
Rubin D, Mcabee GN and Feldman-Winter LB. Auditory Hallucinations Associated With Migraine. Headache 2002;42(7):646-648 Doi: 10.1046/j.1526-4610.2002.02153.x
Dash AK, Panda N, Khandelwal G, Lal V and Mann SS. Migraine and audiovestibular dysfunction: is there a correlation? American journal of otolaryngology 2008;29(5):295-299 Doi: 10.1093/brain/awg20610.1016/j.amjoto.2007.09.004
Kowacs F, Pereira de Macedo D, da Silva-Néto R. Classificação Internacional das Cefaleias (ICHD-3). Comitê de Classificação das Cefaleias da Sociedade Internacional de Cefaleia; "Tradução da Sociedade Brasileira de Cefaleia com autorização da Sociedade Internacional de Cefaleia." São Paulo, Omnifarma, 2018 https://ihs-headache.org/wp-content/uploads/2021/03/ICHD-3-Brazilian-Portuguese.pdf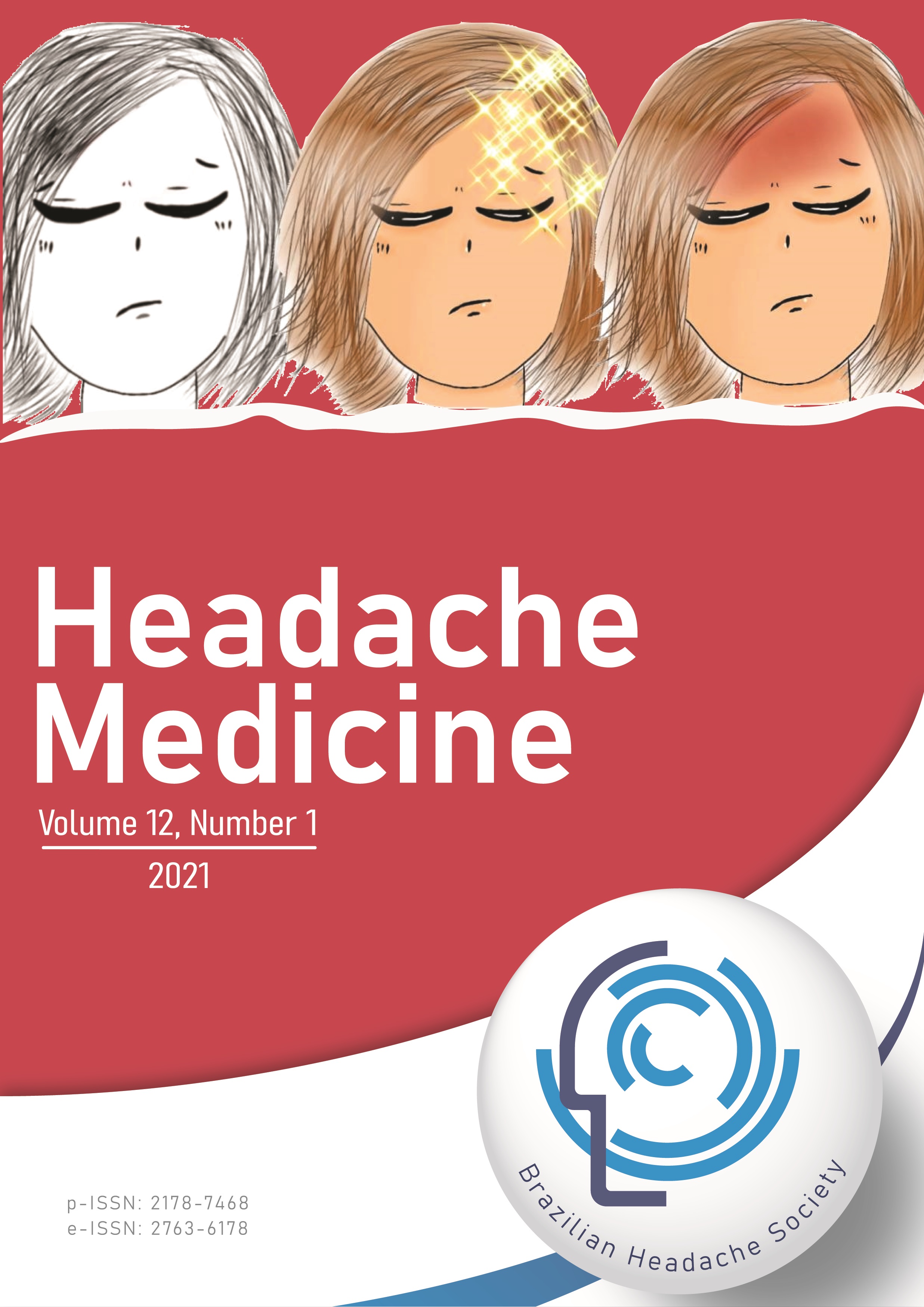 How to Cite
1.
Catharino AM da S, Neves MAO, Nunes N dos SM, Nascimento JSF, Nascimento JKF, Martins Jr GC. "Sound attacks": a case report of migraine with hearing aura. HM [Internet]. 2021 Mar. 31 [cited 2021 Sep. 26];:52-4. Available from: https://headachemedicine.com.br/index.php/hm/article/view/424
License
Copyright (c) 2021 Antonio Marcos da Silva Catharino, Marco Antonio Orsini Neves, Nicolle dos Santos Moraes Nunes, Jacqueline Stephanie Fernandes Nascimento, Janie Kelly Fernandes Nascimento, Gilberto Canedo Martins Jr
This work is licensed under a Creative Commons Attribution 4.0 International License.