Ponytail headache (external-traction headache): prevalence, characteristics and relationship with migraine
Keywords:
Ponytail, Headache, Migraine, External-traction headache, Woman, Pain
Abstract
Introduction
Despite its frequent occurrence, external-traction headache (previously named as "ponytail headache") is scarcely documented in the literature.
Objective
In the present study we set out to estimate the prevalence of ponytail headache and its relationship with migraine.
Methods
One hundred and thirty women (27.7±11.1 years of age), 108 of them reported a previous history of primary headache [81/130 (62.3%) migraine or probable migraine and 27/130 (20.8%) non-migraine headache; 22/130 (16.9%) did not report any previous episode of headache], were requested to wear a ponytail for 60 minutes, removing it only in case of pain. When pain occurred, it was recorded for the latency between the placement of the ponytail and the onset of the pain, its duration and characteristics. The women also filled out a questionnaire on previous headache episodes.
Results
During the 60 minute-period, 52/130 (40%) women had ponytail headache elicited by the experiment. There was a higher prevalence of ponytail headache in those who reported previous episodes of primary headache [48/108 (44.4%)], compared to those who did not [4/22 (18.2%)] (p=0.022). The migraineurs had more ponytail headache than non-migraneurs [39/81 (48.2%) versus 9/27 (33.3%), p=0.180] with a positive history of primary headache and they also had more than those without [4/22 (18.2%)] (p=0.012). The group of women with migraine also presented more ponytail-induced headache than non-migraineurs combined with the group
of individuals without a previous history of headache [13/49 (26.5%), OR 2.57, 95%CI 1.19-5.55; p=0.015]. Migraine-like episodes were trigged in 3/52 (5.8%) by the experiment, all three migraineurs. The latency time for the beginning of ponytail headache during the experiment was 21.5 ± 15.4 min and the duration was 76.0±159.3 min.
Conclusion
The prevalence of ponytail headache in our study was 40% and was statistically higher in migraineurs.
Downloads
Download data is not yet available.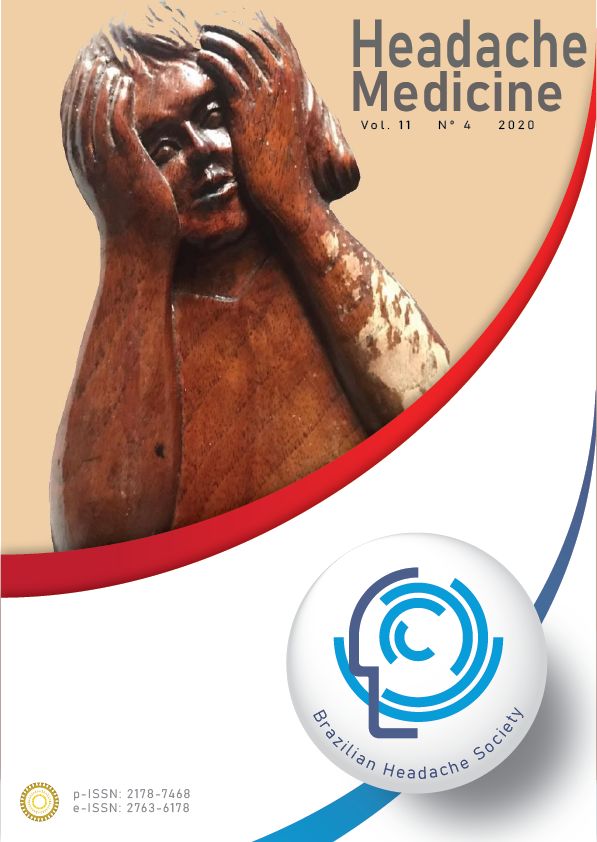 How to Cite
1.
Barreto LP, Reis C, Oliveira DA de, Valença MM. Ponytail headache (external-traction headache): prevalence, characteristics and relationship with migraine. Headache Med [Internet]. 2020 Dec. 31 [cited 2023 Dec. 6];11(4):81-4. Available from: https://headachemedicine.com.br/index.php/hm/article/view/417
License
Copyright (c) 2020 Headache Medicine
This work is licensed under a Creative Commons Attribution 4.0 International License.