A multiaxial evaluation of the headache patient
Keywords:
Migraine, Headache, Multiaxial, Evaluation, Classification
Abstract
Background: Primary headaches are considered a complex medical problem. They usually appear as isolated episodes but can progress into chronic headaches entailing significant functional disability for the patient. With the objective of upgrading the quality of care given to headache patients, there have been several proposals to integrate the wide array of variables which influence headache experiences into a systemized evaluation model. Such a system should prevent key elements from being overlooked, aid diagnosis and facilitate treatment plans. However, as of yet, no such model has been widely adopted. Method: In the present paper, we propose integrating The International Classification of Headache Disorders (ICDH) into a multiaxial assessment system similar to the Diagnostic and Statistical Manual of Mental Disorders (DSM-IV) which is used in psychiatry. The contents of the different axes found in the DSM cover many of the fundamental clinical variables which have been supported by the medical literature for the past twenty years. Our discussion focuses mainly on chronic headache and migraine since they are clinically relevant to this form of evaluation. We believe our proposed model could be applied generally to all headache types. Conclusion: Headache disorders require an evaluation method flexible enough to reflect the multiple dimensions influencing the course of the disease. In order to achieve a systemized, widely accessible evaluation, we propose a headache patient evaluation structure that is familiar and generally accepted by the medical community. Implementing such a system would be beneficial as it could lead towards building a more uniform evaluation system, facilitate student learning and communication among practitioners, all of which are important steps for improving patient care.
Downloads
Download data is not yet available.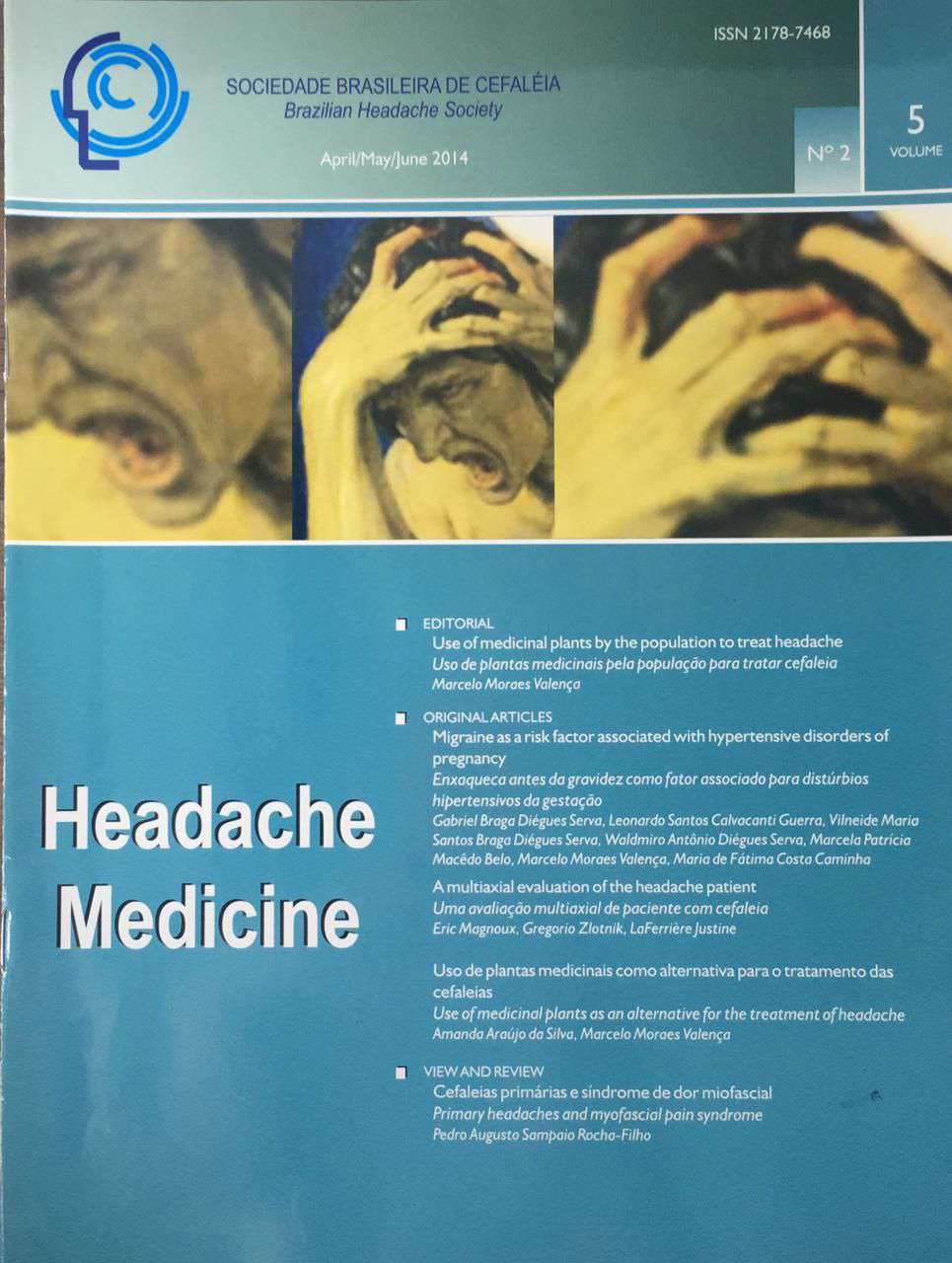 How to Cite
1.
Magnoux E, Zlotnik G, Justine L. A multiaxial evaluation of the headache patient. Headache Med [Internet]. 2014 Jun. 30 [cited 2023 Dec. 2];5(2):39-45. Available from: https://headachemedicine.com.br/index.php/hm/article/view/409
License
Copyright (c) 2014 Headache Medicine
This work is licensed under a Creative Commons Attribution 4.0 International License.