Health related quality of life in children with migraine. A controlled study
Keywords:
Migraine, Migraine at childhood, Quality of life, Short form 36, Brazilian SF-36
Abstract
Background: Headaches are prevalent in the pediatric population. Migraine significantly impacts the health-related quality of life (HRQoL) of sufferers. Objective: To measure the impact of migraine on the HRQoL of children, by applying the Brazilian version of the SF-36 in children with migraine and in controls. Methods: In this cross-sectional study, HRQoL was measured with the SF-36, and scores for the 8 domains of the test were contrasted comparing children (5 to 14 years) with and without migraine. Results: Sample consisted of 66 children (30 with migraine and 36 controls). Mean age was 10.9 years for migraine (Standard Deviation - SD = 3 years) and 10.4 for controls (SD = 3.1 years). Proportion of children with low HRQoL scores was significantly higher in the migraine group, relative to controls, for the 8 domains of the test: vitality, physical functioning, bodily pain, general health perceptions, physical role functioning, emotional role functioning, social role functioning, and mental health. Conclusion: Children with migraine are significantly impacted in their HRQoL, relative to children without migraine.
Downloads
Download data is not yet available.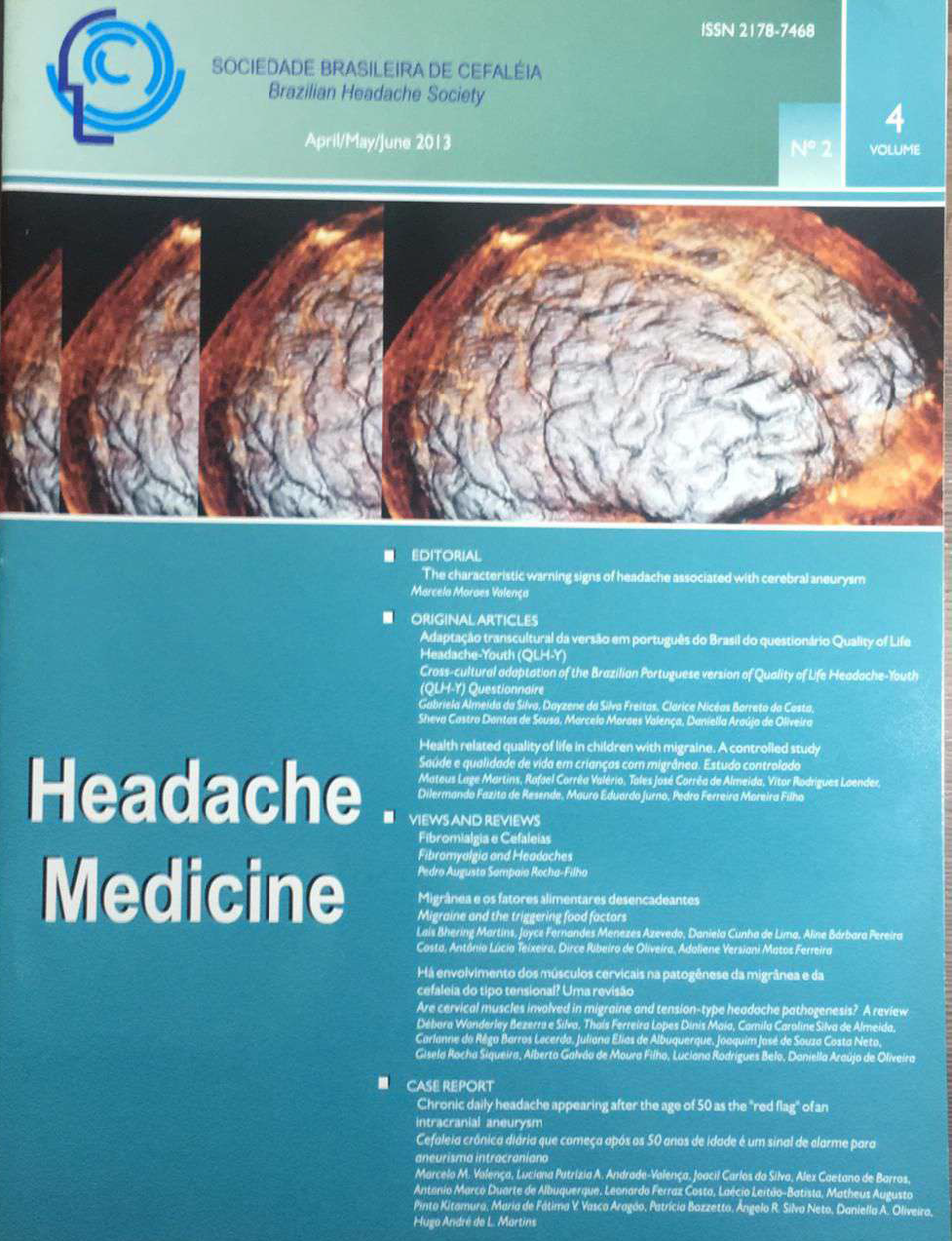 How to Cite
1.
Martins ML, Valério RC, Almeida TJC de, Laender VR, Resende DF de, Jurno ME, Moreira Filho PF. Health related quality of life in children with migraine. A controlled study. HM [Internet]. 2013 Jun. 30 [cited 2022 Jan. 28];4(2):54-8. Available from: https://headachemedicine.com.br/index.php/hm/article/view/374
License
Copyright (c) 2013 Headache Medicine
This work is licensed under a Creative Commons Attribution 4.0 International License.