Stabbing headache and basilar invagination
Keywords:
Stabbing headache, Basilar invagination
Abstract
The stabbing headache is characterized by stabbing pain, localized and of short duration, which occurs spontaneously. The basilar invagination (BI) is an abnormality of the basioccipital bone which consists in the projection of the outline of the foramen magnum within the posterior cranial compartment. The aim of this study was to report the case of a 70-year-old woman with BI, with a history that began one year ago with stabbing headache on the region of the vertex. The pain is always triggered by Valsalva maneuver such as coughing and sneezing. Imaging examination was performed, which showed signs of basilar invagination, with all the odontoid process above the Chamberlain's line. To our knowledge, this is the first report on stabbing headache secondary to BI, raising the hypothesis that structural abnormalities in the posterior cranial fossa may also trigger this type of headache.
Downloads
Download data is not yet available.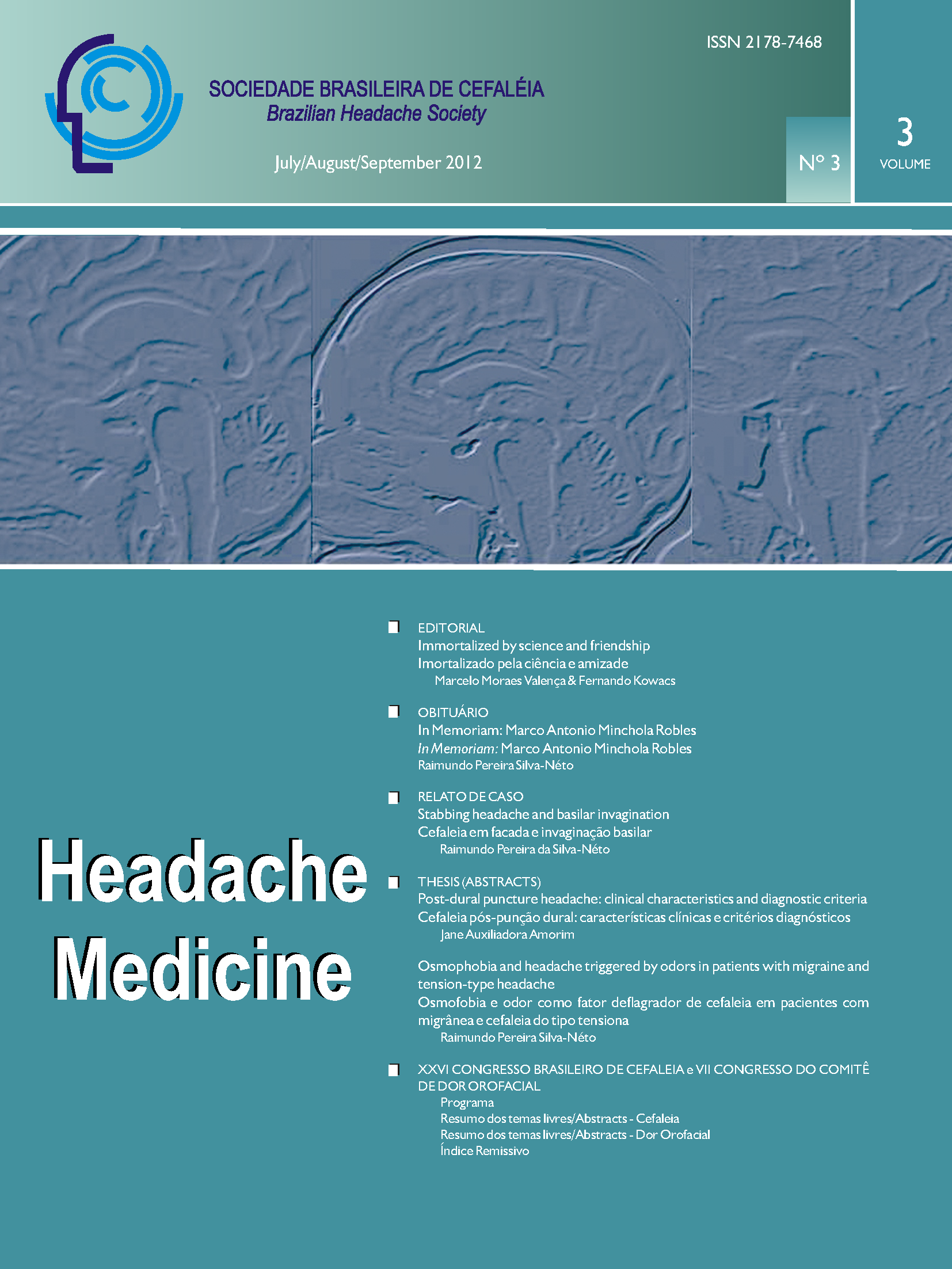 How to Cite
1.
Martins HA de L, Ribas VR, Santos CC dos, Silva LC da, Bernardino SN, Oliveira DA de, Santos KAL de M, Valença MM. Stabbing headache and basilar invagination. HM [Internet]. 2012 Sep. 30 [cited 2021 Dec. 1];3(3):97-9. Available from: https://headachemedicine.com.br/index.php/hm/article/view/330
License
Copyright (c) 2012 Headache Medicine
This work is licensed under a Creative Commons Attribution 4.0 International License.